For the Win: A Novel (Paperback)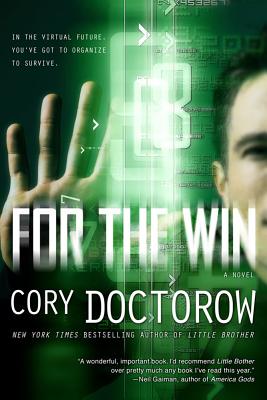 $16.99

Not Available In-Store - Usually Ships from Warehouse in 1-5 Days
Staff Reviews
---
Doctorow isn't afraid to write long, meaty books with complex political and economic themes. As someone not enamored of dumbing-down literature for teens, I loved For The Win. Although it's set in the present, Doctorow's novel about virtual economies has enough sci-fi flair and steam-punk-esque vibes to appeal to fans of apocalyptic futures such as Hunger Games or the Uglies Trilogy. Doctorow writes superb characters: driven, ambitious kids with revolutionary spirits and a good heads on their shoulders. I especially liked 15-year-old Mala ("General Robotwalla") whose leadership and vision carried her virtual troops to victory. For the Win has a lot to teach readers about how serious, and deadly, any economic system—even the virtual ones—can become. Doctorow has intense zeal for the new political crises of the virtual age—privacy, gaming, intellectual freedom, and social justice—and it shows through the passion he channels to craft this masterful thriller. Highly recommended to adults, teens, and anyone who knows that it's never just a game.
—
Jennie
Description
---
It's the twenty-first century, and all over the world, MMORPGs are big business. Hidden away in China and elsewhere, young players are pressed into working as "gold-farmers," amassing game-wealth that's sold to Western players at a profitable markup. Some of these pieceworkers rebel, trying to go into business for themselves—but there's little to stop their bosses from dragging them back into servitude. Some of them, like young Mala in the slums of Bombay—nicknamed "General Robotwallah" for her self-taught military skill—become enforcers for the bosses, but that only buys them so much.

All the way over in L.A., young Wei-Dong, obsessed with Asian youth culture and MMORPGs, knows the system is rigged, knows that kids everywhere are being exploited. Finally, he and his Asian counterparts begin to work together to claim their rights. Under the noses of the ruling elites, they fight the bosses, the game owners and the rich speculators, outsmarting them with their street-gaming skills. But soon the battle will spill over from the virtual world to the real one, leaving the young rebels fighting not just for their rights, but for their lives….
About the Author
---
Cory Doctorow is a regular contributor to the Guardian, Locus, and many other publications. He is a special consultant to the Electronic Frontier Foundation, an MIT Media Lab Research Associate and a visiting professor of Computer Science at the Open University. His award-winning novel Little Brother and its sequel Homeland were a New York Times bestsellers. His novella collection Radicalized was a CBC Best Fiction of 2019 selection. Born and raised in Canada, he lives in Los Angeles.
Praise For…
---
"Doctorow is indispensable. It's hard to imagine any other author taking on youth and technology with such passion, intelligence, and understanding." —Booklist, starred review on The Win

"For the Win is not a perfect book—merely a glorious one." —The Seattle Times on The Win

"A rousing tale of techno-geek rebellion--as necessary and dangerous as file sharing, free speech, and bottled water on a plane." —Scott Westerfeld, Author of Uglies, Pretties, and Specials on The Win

"A terrific read... A cogently written, passionately felt argument." —The New York Times on Little Brother

"A believable and frightening tale of a near-future San Francisco. Filled with sharp dialogue and detailed descriptions…within a tautly crafted fictional framework." —Publishers Weekly, starred review on Little Brother

"One of the year's most important books." —Chicago Tribune on Little Brother

"A wonderful, important book...I'd recommend Little Brother over pretty much any book I've read this year." —Neil Gaiman, author of The Graveyard Book on Little Brother