Time Siege (Time Salvager #2) (Hardcover)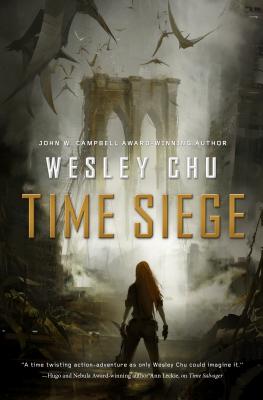 Other Books in Series
This is book number 2 in the Time Salvager series.
Description
---
Time Siege, a fast-paced time-travel adventure from award-winning author Wesley Chu

Having been haunted by the past and enslaved by the present, James Griffin-Mars is taking control of the future.

Earth is a toxic, sparsely inhabited wasteland--the perfect hiding place for a fugitive ex-chronman to hide from the authorities.

James has allies, scientists he rescued from previous centuries: Elise Kim, who believes she can renew Earth, given time; Grace Priestly, the venerated inventor of time travel herself; Levin, James's mentor and former pursuer, now disgraced; and the Elfreth, a population of downtrodden humans who want desperately to believe that James and his friends will heal their ailing home world.

James also has enemies. They include the full military might of a benighted solar system ruled by corporate greed and a desperate fear of what James will do next. At the forefront of their efforts to stop him is Kuo, the ruthless security head, who wants James's head on a pike and will stop at nothing to obtain it.


Don't forget to check out James's previous time travel adventure in Time Salvager.
About the Author
---
WESLEY CHU was a finalist for the John W. Campbell Award for Best New Writer. His debut novel, The Lives of Tao, earned him a Young Adult Library Services Association Alex Award and a Science Fiction Goodreads Choice Award Finalist slot.
Praise For…
---
Though James and the ghosts of his past still loom large, Time Siege turns much of its focus onto Elise Kim's emerging role as a tribe elder, and Chu skillfully contrasts Elise's softer, humanist approach to leadership with that of another strong woman: the Valta corporation's villainous (and terrifying) Kuo."—RT Book Reviews (four stars)

"Urban warfare. Prison breaks. More time jumps... I'm already desperate for the next book in the series." —SF&F Reviews (UK)

"Chu also writes great characters. Feisty, man-eating, near centenarian Grace Priestley is one of my favourites….But it is probably Chu's world building that really impresses, whether it be some off-world pirate haven, a deep space prison, or the main place of interest, Earth." —Strange Alliances

"It's a clever book with clever concepts and characters that need page time to grow and flourish and it does that really really well." —Moon Magister Reviews

"Wesley Chu has always written imaginative, accessible science fiction. For all the future fantastic elements in the narrative, it is the very human moments – good and bad – that truly resonate."—LitStack

"Time Siege is a thrilling, summer-blockbuster of a novel."—Read Every Thing
For Time Salvager

"Smart, fast, and fun." —Brent Weeks, New York Times bestselling author of The Blinding Knife

"Time-twisting action-adventure as only Wesley Chu could imagine it. I enjoyed it a lot. Read this book!" —Ann Leckie, author of the Hugo and Nebula Award-winning Ancillary Justice

"Chu creates a fascinating world, strange and familiar, infused with humor, sorrow, courage, greed, and sacrifice. This page-turner is a riveting, gratifying read." —Publishers Weekly, starred review

"An utterly captivating time-travel adventure. To put it simply, Chu's worldbuilding is extraordinary." —RT Book Reviews, 4½ stars, a Top Pick!

"More than a compelling, innovative take on the perks and pitfalls of time travel - Time Salvager is a sharp study of how human nature might prove mankind's salvation, or eventually doom us all. This is world-building that will make you fear for the future. In a good way." —Cherie Priest, author of Maplecroft

"Wesley Chu has done something new with the time travel genre, and that takes doing! Exciting, interesting, and never forgetting the fun of ideas, this is brilliant new stuff." —Paul Cornell, author of London Falling

"With time travel, force-field kung fu, and a huge helping of wit, Wesley Chu transmogrifies a bleak long-whimper apocalypse into vicious, high-octane fun." —Max Gladstone, author of the Craft Sequence

"Chu delivers a powerful and compelling search of the past for redemption in the present, by turns thrilling and sweet and gut-wrenching." —Kevin Hearne, author of the Iron Druid Chronicles