Necessity: A Novel (Thessaly #3) (Hardcover)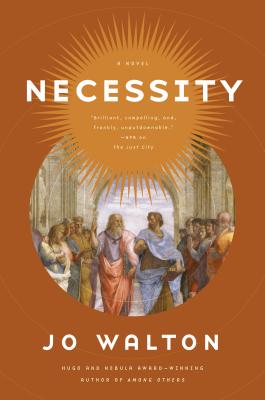 Description
---
2017 Sunburst Award for Adult Fiction Finalist

Necessity: the sequel to the acclaimed The Just City and The Philosopher Kings, Jo Walton's tales of gods, humans, and what they have to learn from one another.

More than sixty-five years ago, Pallas Athena founded the Just City on an island in the eastern Mediterranean, placing it centuries before the Trojan War, populating it with teachers and children from throughout human history, and committing it to building a society based on the principles of Plato's Republic. Among the City's children was Pytheas, secretly the god Apollo in human form.

Sixty years ago, the Just City schismed into five cities, each devoted to a different version of the original vision.

Forty years ago, the five cities managed to bring their squabbles to a close. But in consequence of their struggle, their existence finally came to the attention of Zeus, who can't allow them to remain in deep antiquity, changing the course of human history. Convinced by Apollo to spare the Cities, Zeus instead moved everything on the island to the planet Plato, circling its own distant sun.

Now, more than a generation has passed. The Cities are flourishing on Plato, and even trading with multiple alien species. Then, on the same day, two things happen. Pytheas dies as a human, returning immediately as Apollo in his full glory. And there's suddenly a human ship in orbit around Plato--a ship from Earth.
About the Author
---
Jo Walton won the John W. Campbell Award for Best New Writer on publication of her debut novel The King's Peace. She won the World Fantasy Award in 2004 for Tooth and Claw, and in 2012, the Hugo and Nebula Awards for Among Others. In addition to writing SF and fantasy, she has also designed role-playing games and published poetry. Her song "The Lurkers Support Me In Email" has been quoted innumerable times in online discussions all over the world, frequently without attribution. A native of Wales, she lives in Montreal.
Praise For…
---
"A trilogy which began as an almost-dry intellectual exercise ends as a glorious kitchen sink of genre, combining philosophy, time travel, aliens, and the gods." —Kirkus Reviews