The Unnoticeables: A Novel (The Vicious Circuit #1) (Paperback)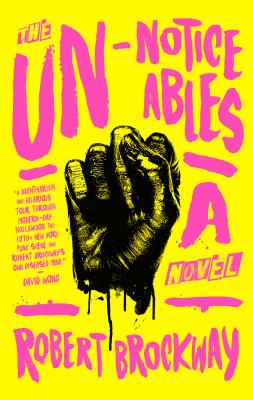 Other Books in Series
This is book number 1 in the The Vicious Circuit series.
Staff Reviews
---
Horror doesn't get much more fun than this. A twisted madcap joyride of a novel, this book has it all: sex, drugs, rock and roll, violence, profanity, blood, gore, more sex, and a bunch of evil tar monsters that melt people, all wrapped up in a chaotic riot of punk rock attitude. It is freaky, frantic, and very, very funny. It is also deceptively intelligent; when I wasn't too busy being tickled by its black humor and sickened by its fiendish imagery, I found myself marveling at its fascinating concepts. Robert Brockway is one of the freshest voices I have come across in a long time. He writes with anarchic glee and reckless abandon, yet there is a certain calculating brilliance behind it all, holding everything together even as he tears it all apart. The Unnoticeables is like nothing I've ever read before.
— Jason
Description
---
From Robert Brockway, Sr. Editor and Columnist of Cracked.com comes The Unnoticeables, a funny and frightening urban fantasy.

There are angels, and they are not beneficent or loving. But they do watch over us. They watch our lives unfold, analyzing us for repeating patterns and redundancies. When they find them, the angels simplify those patterns and remove the redundancies, and the problem that is "you" gets solved.

Carey doesn't much like that idea. As a punk living in New York City, 1977, Carey is sick and tired of watching strange kids with unnoticeable faces abduct his friends. He doesn't care about the rumors of tar-monsters in the sewers or unkillable psychopaths invading the punk scene—all he wants is to drink cheap beer and dispense ass-kickings.

Kaitlyn isn't sure what she's doing with her life. She came to Hollywood in 2013 to be a stunt woman, but last night a former teen heartthrob tried to eat her, her best friend has just gone missing, and there's an angel outside her apartment. Whatever she plans on doing with her life, it should probably happen in the few remaining minutes she has left.

There are angels. There are demons. They are the same thing. It's up to Carey and Kaitlyn to stop them. The survival of the human race is in their hands.

We are, all of us, well and truly screwed.
About the Author
---
ROBERT BROCKWAY is a Senior Editor and columnist for Cracked.com. He lives in Portland, Oregon, with his wife Meagan and their two dogs, Detectives Martin Riggs and Roger Murtaugh. When not penning books like The Vicious Circle Novels (The Unnoticeables, The Empty Ones, and Kill All Angels), he has been known, on occasion, to have a beard.