The Empty Ones: A Novel (The Vicious Circuit #2) (Hardcover)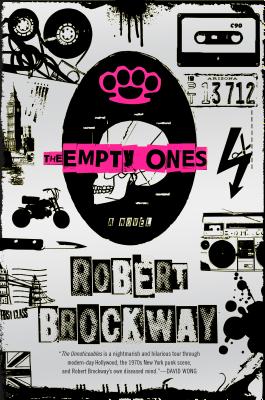 Other Books in Series
This is book number 2 in the The Vicious Circuit series.
Description
---
Following on the heels of Robert Brockway's comedic horror novel The Unnoticeables, The Empty Ones reveals the next chapter in the lives of a few misfits attempting to fight back against the mysterious Unnoticeables.

The Empty Ones follows Carey and Randall to London where they go to rescue Gus and fight more of these mysterious angel-like creatures, and stumble on a powerful and unexpected ally. Meanwhile, Kaitlyn, who was very nearly beat when last we saw her, continues her fight into the desert of Mexico and the Southwest US, seeking the mysterious gear cult. Once there, she discovers what the gear cult is really up to: trying to 'pin' the angels to Earth, focus their attention here, and get as much of humanity as possible "solved"--which, in their minds, is akin to being saved--and in the process discovers something incredible about herself.

With a snarled lip, The Empty Ones incorporates everything that made The Unnoticeables incredible, but like any good punk band, when you don't think they can get any louder, they somehow turn it up a notch. It's terrifying and hilarious, visceral and insane, chaotic and beautiful.

The Vicious Circuit Trilogy
The Unnoticeables
The Empty Ones
Kill All Angels

About the Author
---
ROBERT BROCKWAY is a Senior Editor and columnist for Cracked.com. He lives in Portland, Oregon, with his wife Meagan and their two dogs, Detectives Martin Riggs and Roger Murtaugh. When not penning books like The Vicious Circle Novels (The Unnoticeables, The Empty Ones, and Kill All Angels), he has been known, on occasion, to have a beard.
Praise For…
---
Praise for The Empty Ones:

"[R]eads like a collaboration by Hunter S. Thompson, the Sex Pistols, and H.P. Lovecraft . . . 'mostly bravado, lies, and perversion,' which perfectly sums up the gutter-dwelling vibe of this novel." —Publisher's Weekly

Praise for The Unnoticables

"Like Hunter S. Thompson went drinking with Stephen King." —Publishers Weekly

"Brings [Cracked]'s legendarily irreverent wit to this raunchy, rollicking tale of punk rock, gruesome horror and pop-culture satire." —NPR

"A nasty, freaky, and haphazardly funny horror story." —Kirkus Reviews

"The Unnoticeables is pure science fiction horror lurking behind the wry smile of a punk rocker in beer-stained blue jeans. Brockway writes confidently and with an utterly original voice, delivering a rude, smart, and at times terrifying story that I guarantee you've never seen before."
—Daniel H. Wilson, New York Times bestselling author of Robopocalypse

"Deliriously unhinged in the best way possible. Fantasy that is fast, funny, and downright freaky."
—Chuck Wendig, bestselling author of Blackbirds

"A visceral blend of brutality and cunning: bloody, innovative, and wildly compelling."
—Cherie Priest, bestselling author of Maplecroft