All the Birds in the Sky (Paperback)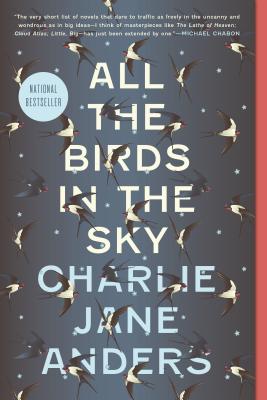 Staff Reviews
---
It's a near perfect crafting of science fiction and fantasy in which scientists and cyberneticists vie with witches and wizards for control of that which should not be controlled but should rather be attended to with a caution born of reverence for life at its messiest and most beautiful. It's about the limits of scientific logic and the naivete of nature worship. It's about love and passion with a generous dollop of steamy sex. And it's about loss and redemption. Solid, top notch and highly recommended.
—
Bob
This book is mesmerizing, blending genres together and presenting one amazing idea after another, while still being sharp, funny, and incredibly moving. Patricia (a witch) and Laurence (a mad scientist) first handle the challenges of school together, then grow up and reconnect in a near-future San Francisco, both exploring and harnessing their respective talents but still facing things beyond their control. The characters are what draw you in, and their worlds of science and magic are richly detailed and always fascinating. — From Dan's Picks (page 1)
February 2016 Indie Next List
---
"All the Birds in the Sky reads like an instant classic. In tackling big questions about what is really important in life and how we are all connected, the novel soars through magic and science, good and evil, and all the shades in between; through the struggles of children against clueless parents, teachers, and spiteful kids; and through the struggles of adults against a heedless society, all with a love story at its heart. Deep, dark, funny, and wonderful!"
— Sara Hinckley (E), Hudson Booksellers, Newark, NJ
Description
---
Entertainment Weekly's 27 Female Authors Who Rule Sci-Fi and Fantasy Right Now
Winner of the 2017 Nebula Award for Best Novel
Finalist for the 2017 Hugo Award for Best Novel
"The book is full of quirkiness and playful detail...but there's an overwhelming depth and poignancy to its virtuoso ending." --NPR
From the former editor-in-chief of io9.com, a stunning Nebula Award-winning and Hugo-shortlisted novel about the end of the world--and the beginning of our future
An ancient society of witches and a hipster technological startup go to war in order to prevent the world from tearing itself. To further complicate things, each of the groups' most promising followers (Patricia, a brilliant witch and Laurence, an engineering "wunderkind") may just be in love with each other.
As the battle between magic and science wages in San Francisco against the backdrop of international chaos, Laurence and Patricia are forced to choose sides. But their choices will determine the fate of the planet and all mankind.
In a fashion unique to Charlie Jane Anders, All the Birds in the Sky offers a humorous and, at times, heart-breaking exploration of growing up extraordinary in world filled with cruelty, scientific ingenuity, and magic.
About the Author
---
CHARLIE JANE ANDERS is the former editor-in-chief of io9.com, the extraordinarily popular Gawker Media site devoted to science fiction and fantasy. Her SF and fantasy debut novel, All the Birds in the Sky, won the 2017 Nebula Awards for Best Novel and was a finalist for the 2017 Hugo Award's Best Novel category. Her Tor.com story "Six Months, Three Days" won the 2013 Hugo Award and was subsequently picked up for development into a NBC television series. She has also had fiction published by McSweeney's, Lightspeed, and ZYZZYVA. Her journalism has appeared in Salon, the Wall Street Journal, Mother Jones, and many other outlets.