Null States: Book Two of the Centenal Cycle (Hardcover)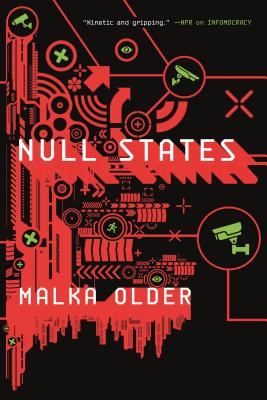 Description
---
"Kinetic and gripping" —NPR on Infomocracy
Null States continues Campbell Award finalist Malka Older's Centenal Cycle, the near-future science fiction trilogy beginning with Infomocracy
• The book The Huffington Post called "one of the greatest literary debuts in recent history"
• Named one of the best books of the year by The Washington Post, The Verge, Flavorwire, Kirkus, and Book Riot
• A Locus Award Finalist for Best First Novel
The future of democracy is about to implode.
After the last controversial global election, the global infomocracy that has ensured thirty years of world peace is fraying at the edges. As the new Supermajority government struggles to establish its legitimacy, agents of Information across the globe strive to keep the peace and maintain the flows of data that feed the new world order.
In the newly-incorporated DarFur, a governor dies in a fiery explosion. In Geneva, a superpower hatches plans to bring microdemocracy to its knees. In Central Asia, a sprawling war among archaic states threatens to explode into a global crisis. And across the world, a shadowy plot is growing, threatening to strangle Information with the reins of power.
THE CENTENAL CYCLE
Book 1: Infomocracy
Book 2: Null States
Book 3: State Tectonics
About the Author
---
MALKA OLDER is a writer, humanitarian worker, and PhD candidate at the Centre de Sociologie des Organisations studying governance and disasters. Named Senior Fellow for Technology and Risk at the Carnegie Council for Ethics in International Affairs for 2015, she has more than eight years of experience in humanitarian aid and development, and has responded to complex emergencies and natural disasters in Uganda, Darfur, Indonesia, Japan, and Mali. Infomocracy is her first novel.
Praise For…
---
"Seriously inspirational for people who are genuinely involved in inventing the future." — Craig Newmark, founder of CraigsList
"A riveting science fiction thriller that brings the future of democracy to vivid, divisive life... a hell of a good story." —The Chicago Review of Books
"Subtly radical (except where it's openly radical), this book and series continues to offer a kinetically involving narrative that can also make you think about our actual world today." —RT Book Reviews, Top Pick (4.5 Stars)
"Carefully researched, prescient, thoughtful, and disturbing." —Kirkus Reviews
PRAISE FOR INFOMOCRACY
"Kinetic and gripping, the plot hurtles toward an electoral climax that leaps off the page." —NPR
"Futurists and politics geeks will love this unreservedly." —The New York Times Book Review
"This brilliant book is unquestionably one of the greatest literary debuts in recent history." —The Huffington Post
"A futuristic world with eerie parallels to current events... [an] uncanny political thriller." —The Washington Post

"Far too messy to be utopian or dystopian, Older here raises all sorts of critical questions. I love this book; can't wait to see what else she writes." —Ian Bremmer, author of The End of the Free Market and Superpower
"Smart, ambitious, bursting with provocative extrapolations, Infomocracy is the big-data-big-ideas-techno-analytical-microdemoglobal-post-everything political thriller we've been waiting for." —Ken Liu, author of The Grace of Kings
"A fast-paced, post-cyberpunk political thriller... If you always wanted to put The West Wing in a particle accelerator with Snow Crash to see what would happen, read this book." —Max Gladstone, author of the Craft Sequence
"A frighteningly relevant exploration of how the flow of information can manipulate public opinion...timely and perhaps timeless." —Kirkus Reviews starred review
"Older's sparkling debut, the first full-length novel from the novella-focused Tor.com imprint, serves as both a callback to classic futurist adventure tales by the likes of Brunner and Bester and a current examination of the power of information." —Publishers Weekly
"In the mid-21st century, your biggest threat isn't Artificial Intelligence—it's other people. Yet the passionate, partisan, political and ultimately fallible men and women fighting for their beliefs are also Infomocracy's greatest hope. An inspiring book about what we frail humans could still achieve, if we learn to work together." —Karl Schroeder, author of Lockstep and the Virga saga