Dark Water: Art, Disaster, and Redemption in Florence (Paperback)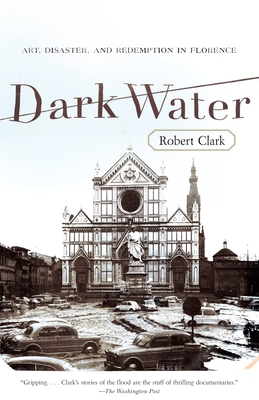 $17.00

Special Order - Subject to Availability
Staff Reviews
---
An impressively researched book not only about the flood that inundated Florence in 1966, but about the city's dizzying collection of Renaissance masterworks, the men who created them, and the volatile river Arno that has routinely attempted to carry them off. Clark also tells the story of the angeli del fango, or "mud angels," who traveled to the devastated city to help however they could, and the art-besotted Life photographer who recorded it all for posterity. He reveals the struggles and triumphs of the men and women who labored for years to restore the work of Florence's greatest sons -- Giotto, Michelangelo, Donatello and, most dramatically, Cimabue, whose Crosifisso, the painting that touched off the Renaissance, was found severely damaged in the church of Santa Croce.
—
Brandon
Description
---
Birthplace of Michelangelo and home to untold masterpieces, Florence is a city for art lovers. But on November 4, 1966, the rising waters of the Arno threatened to erase over seven centuries of history and human achievement.

Now Robert Clark explores the Italian city's greatest flood and its aftermath through the voices of its witnesses. Two American artists wade through the devastated beauty; a photographer stows away on an army helicopter to witness the tragedy first-hand; a British "mud angel" spends a month scraping mold from the world's masterpieces; and, through it all, an author asks why art matters so very much to us, even in the face of overwhelming disaster.
About the Author
---
ROBERT CLARK is the author of the novels In the Deep Midwinter, Mr. White's Confession, and Love Among the Ruins as well as the nonfiction books My Grandfather's House, River of the West, and The Solace of Food: A Life of James Beard.
Praise For…
---
"Gripping.... Clark's stories of the flood are the stuff of thrilling documentaries." —The Washington Post Book World

"A meditation on art, religion, the power of nature to destroy man's legacy on this Earth and the against-all-odds determination of people—young and old, working class and cultured, rich and poor-to save it." —The Seattle Times

"Lovers of Florence/Firenze will fall into Dark Water headfirst.... A formidable accomplishment." —Frances Mayes, author of Under the Tuscan Sun

"[A] vivid canvas of a city submerged." –Men's Vogue

"With the skill of an investigative reporter who can write beautifully, Clark not only describes the disastrous flood but also gives a history of Florence and the story of the people from all over the world who came to help save the city and its art." –ARTnews

"History and art criticism, with a dash of memoir.... Evocative." –BookPage

"A wonderfully intimate evocation both of the geniuses that created Florence's masterpieces and the teams of art experts and 'mud angels' who rescued them. Anyone visiting Florence after reading Dark Water will find the city all the more precious and miraculous." –Ross King, author of Brunelleschi's Dome

"Enthralling." –The Economist

"Dark Water is not simply the best book yet about the flood that devastated Florence in November, 1966; it's a new kind of art history–one that reflects on the transformation of a real Italian city (Firenze) into an imaginary city that's become almost a museum of itself (Florence)." –Robert Hellenga, author of The Sixteen Pleasures