What Was Said to Me: The Life of Sti'tum'atul'wut, a Cowichan Woman (Paperback)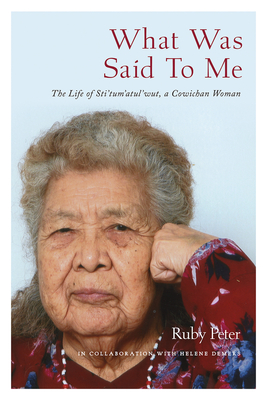 $19.95

Not Available In-Store - Usually Ships from Warehouse in 1-5 Days
Description
---
 A narrative of resistance and resilience spanning seven decades in the life of a tireless advocate for Indigenous language preservation.
Life histories are a form of contemporary social history and convey important messages about identity, cosmology, social behaviour and one's place in the world. This first-person oral history—the first of its kind ever published by the Royal BC Museum—documents a period of profound social change through the lens of Sti'tum'atul'wut—also known as Mrs. Ruby Peter—a Cowichan elder who made it her life's work to share and safeguard the ancient language of her people: Hul'q'umi'num'.
Over seven decades, Sti'tum'atul'wut mentored hundreds of students and teachers and helped thousands of people to develop a basic knowledge of the Hul'q'umi'num' language. She contributed to dictionaries and grammars, and helped assemble a valuable corpus of stories, sound and video files—with more than 10,000 pages of texts from Hul'q'umi'num' speakers—that has been described as "a treasure of linguistic and cultural knowledge." Without her passion, commitment and expertise, this rich legacy of material would not exist for future generations
About the Author
---
Sti'tum'atul'wut Ruby Peter is a Cowichan Elder and linguist who has trained Hul'q'umi'num' language teachers and researchers for over six decades. She is the lead language consultant on five SSHRC grants on Hul'q'umi'num' stories and four Partnership Development Grants on narrative and discourse structure, pronunciation, the language of canoe culture and Hul'q'umi'num' theatre. Ruby serves on boards, panels and committees that set policies and provide linguistic support for language revitalization efforts in her community. In 2019 she was awarded honorary doctorate degrees by the University of Victoria and Simon Fraser University. She is the associate editor of The Cowichan Dictionary.

Helene Demers is a Dutch-Canadian cultural anthropologist and a research associate at Vancouver Island University. Her research in the Cowichan Valley spans 30 years and includes recording life histories, The Cowichan Valley Community Oral History Project: The Meaning of Home and assisting in the repatriation of a Cowichan Sxwuyxw mask. As an immigrant, she is deeply aware of the interconnection between identity and place, and this thread runs through her research. Currently, she is researching ""home artifacts,"" the items that immigrants and refugees bring from their homeland, as well as documenting journeys and migrations through a collaborative embroidery project.

Molly Peter is a daughter, grandmother and great-grandmother from Cowichan Tribes territory. She has worked in Cowichan Tribes Child and Family Services for over 26 years. Like her mother, Ruby Peter, she hasshared the importance of cultural teachings, values and beliefs with her offspring and community members.
Praise For…
---
"As I read What was Said to Me I felt like I was sitting with my grandmother when she too shared stories, teachings, culture and tradition. Such a beautiful reflection of Ruby's vision: a legacy that guides and directs her family." —Robina ThomasExecutive Director, Indigenous Academic and Community Engagement, University of Victoria

"What Was Said to Me is a beautiful and generous gift our Aunty, Sti'tum'atul'wut, has shared with us. It is rich with teachings from beginning to end. It is an example of the love she had for the people." —Samaya Jardey, Director of Language and Cultural Affairs, Squamish Nation

"A synthesis of memoir, oral history and auto-ethnography, Ruby Peter's story is a powerful testament to the persistence of Indigenous life on Canada's West Coast." —Wendy Wickwire, Author of At the Bridge: James Teit and an Anthropology of Belonging

"The stories contained in this book are wonderful reminders about the centrality of care, and of listening, for a life well-lived. . . Its lessons are Cowichan and invaluable to all who want to live an honorable, and ethical life." –Georgia Sitara, for BC Studies