Toasts: Over 1,500 of the Best Toasts, Sentiments, Blessings, and Graces (Hardcover)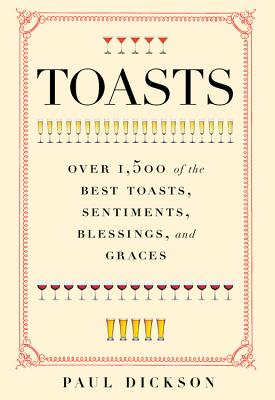 $9.99
Email or call for price.
Description
---
For anyone who will ever face a sea of expectantly raised glasses, or anyone who is fascinated by words and word-play, this rich compendium of toasts for every occasion will prove as entertaining as it is useful. 

The best toasts ever proclaimed (and a few of the worst), funny and sentimental toasts, cynical and heartfelt toasts, justly famous and unjustly forgotten toasts, they're all here in the latest compilation of verbal fun from wordsmith extraordinaire Paul Dickson.

Impossible to put down when browsing and easy to use when looking something up, Toasts one of those books that will never gather dust on the shelf.
About the Author
---
Paul Dickson is a freelance writer of more than 65 non-fiction books and numerous newspaper and magazine articles on a variety of subjects from ice cream to baseball to language, including slang, to jokes to Sputnik and the Bonus Army.