The Book of Personality Tests: 25 Easy to Score Tests that Reveal the Real You (Puzzlecraft) (Paperback)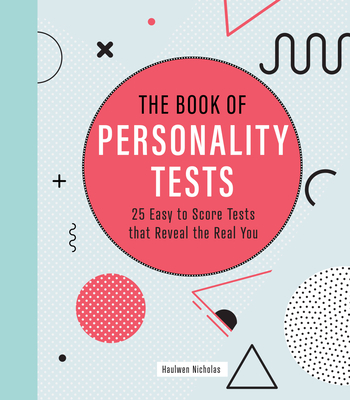 Description
---
From the complex, traditional personality tests that are built on Jung's original theories, such as Myers-Briggs Type Indicator, to the fun quizzes in glossy magazines telling us what type of sandwich we are, we have an endless fascination with uncovering who we are and what makes us tick. This comprehensive collection brings together 25 tests, both traditional and contemporary, with detailed results and interpretations at the back.
The author provides her own version and wording for each established model and credits the original creator (
Myers-Briggs
,
Enneagram
,
NASA
, etc.) in the short introduction that accompanies each test. After a brief synopsis of
the origin of each test
as well as detailed
analyses and interpretations
of the results, this comprehensive collection provides a serious and
lasting resource for individuals, couples, families, friends, and colleagues
alike.
Some of the most popular tests included are:
Myers-Briggs Type Indicator (MBTI) 
The Enneagram 
16 Personality Factor Questionnaire 
Insights Discovery 
The 12 Core Archetypes 
DISC (Dominance, Inducement, Submission, and Compliance) 
Discover core traits about yourself, such as(1)
leadership style
, (2)
management skills
, (3)
emotional intelligence
, (4)
money skills
, (5)
love language
, among others.  
The
Puzzlecraft series
from Wellfleet Press tackles some of the greatest conundrums of our time. Learn how to navigate the world's trickiest mazes, solve the most complex crosswords, and finally get the answer to "Why is a raven like a writing desk?" Follow literature's most famous detective, Sherlock Holmes, as he guides you through hundreds of challenging cross-fitness brain exercises inspired by his most popular cases and adventures. You can also train your memory to perform better and learn the meanings behind your own personality traits or the traits of others. These handy and portable paperbacks are sized perfectly to travel, whether on vacation or just for your daily commute. The intricately designed covers and bold colors will capture your attention as much as the engaging content inside.  
Other titles in the series include:
The Curious History of Mazes
;
The Curious History of the Crossword
;
The Curious History of the Riddle
;
Escape from Sherlock Holmes
;
Sherlock Holmes Puzzles: Code Breakers
;
Sherlock Holmes Puzzles: Math & Logic Games
;
Sherlock Holmes Puzzles: Visual Puzzles
;
Sherlock Holmes Puzzles: Lateral Brain Teasers
;
Solving Sherlock Homes
;
Solving Sherlock Holmes Volume II
; and
Maximize Your Memory
.
About the Author
---
Based in Chester, UK, Haulwen Nicholas is an NLP coach and Myers-Briggs practitioner, and uses these techniques in her Mojo Academy to take individuals on a journey of re-discovery. In her capacity as Ambassador for Psychologies magazine, Haulwen also blogs about coaching topics for their subscribers as well as on her own website, themojocoach.co.uk. To find out more about Haulwen's corporate coaching work, visit haulwencoaching.com.