The Wild West in Color: A Photographic Account of our Nation's Westward Expansion (Hardcover)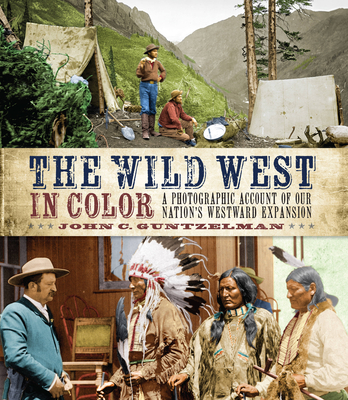 $19.99
Email or call for price.
Description
---
Re-explore the Wild West, where America's legends and myths were made, for the first time with fully colorized images by best-selling author and cinematographer John Guntzelman.

The lure of the Wild West has been a driving force in the American experience. Originally the stuff of dreams, dime novels, and Wild West shows, the fascination continued in motion pictures such as The Great Train Robbery, High Noon, The Magnificent Seven, the so-called spaghetti westerns of Clint Eastwood, and hundreds more. Whether through the appeal of wide-open spaces, the control of our own destiny, or just the desire for a better life, the Wild West still strikes a chord that resonates within.

Following the Civil War and Reconstruction, the country expanded westward ready to grow—and grow it did.

The evocative landscapes of these unexplored lands ­­were recorded by a number of excellent photographers: John C. H. Grabill; Edward S. Curtis; John K. Hillers; and Timothy O'Sullivan, the famed Civil War photographer. Many of their striking images survive and continue to inspire us today.

These iconic and incredibly evocative photographs from another era capture the reality and immediacy of that time and only require the careful addition of color to make them far more accessible, believable, and meaningful to present-day readers.

The Wild West in Color includes over 200 of the best black-and-white photographs from that time, fully colorized to bring this lost world back to life! It offers a new glimpse into a period of the American experience that has inspired countless books, motion pictures, and stories—a time that continues to resonate and inspire us to the present day.
About the Author
---
John C. Guntzelman has been a professional cinematographer and director for forty years, with a strong interest in period photography's ability to capture forever an actual moment of time. He is the author of The Civil War in Color and The Wild West in Color.