Irish Folk and Fairy Tales (Chartwell Classics) (Hardcover)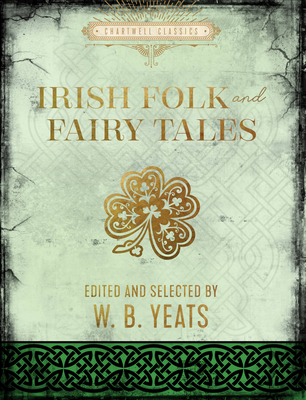 Description
---
In this elegantly designed, jacketed hardcover, William Butler Yeats delivers a vast collection of stories, songs, and poetry of his beloved home country, Ireland, and its historical and legendary past.
Irish Folk and Fairy Tales includes legendary stories "Trooping Fairies," "The Banshee," "Kings and Queens," "Giants," "Devils" and the enigmatic "Irish Leprechaun" that will delight and entertain readers of all ages. Poets, readers, children, and adults will all fall in love with these classic Irish folk and fairy tales from one of the world's greatest poets, W. B. Yeats.

Essential volumes for the shelves of every classic literature lover, the Chartwell Classics series includes beautifully presented works and collections from some of the most important authors in literary history. Chartwell Classics are the editions of choice for the most discerning literature buffs.
Other titles in the series include: The Essential Tales & Poems of Edgar Allen Poe; The Essential Tales of H.P. Lovecraft; The Federalist Papers; The Inferno; The Call of the Wild and White Fang; Moby Dick; The Odyssey; Pride and Prejudice; Grimm's Fairy Tales; Emma; The Great Gatsby; The Secret Garden; Anne of Green Gables; The Phantom of the Opera; The Communist Manifesto and Das Kapital; The Republic; Frankenstein; Twenty Thousand Leagues Under the Sea; The Picture of Dorian Gray; Meditations; Alice's Adventures in Wonderland and Through the Looking-Glass; A Tales of Two Cities; Beowulf; The Strange Case of Dr. Jekyll and Mr. Hyde; Adventures of Huckleberry Finn; Little Women; Wuthering Heights; Peter Pan; Persuasion; Aesop's Fables; The Constitution of the United States and Selected Writings; Crime and Punishment; Dracula; Great Expectations; The Iliad; The Legend of Sleepy Hollow; The War of the Worlds; The Time Machine and The Invisible Man; and The Alchemist.
About the Author
---
William Butler Yeats was an Irish poet and playwright, and one of the foremost figures of 20th century literature. A pillar of both the Irish and British literary establishments, in his later years he served as an Irish Senator for two terms. Yeats was a driving force behind the Irish Literary Revival and helped co-found the Abbey Theatre, where he served as its chief during its early years. In 1923 he became the first Irishman to be awarded the Nobel Prize in Literature.