Preacher's Bloodbath (Preacher/First Mountain Man #22) (Mass Market)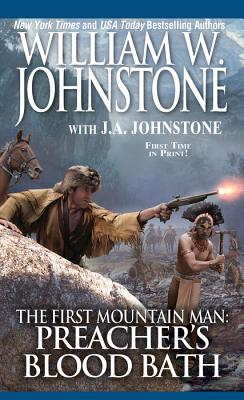 Other Books in Series
This is book number 22 in the Preacher/First Mountain Man series.
Description
---
The Greatest Western Writers Of The 21st Century

Preacher takes on the last of the Aztecs in his biggest, bloodiest showdown yet. . .

There are a million ways to die in the Rockies--and a million predators, natural or otherwise. But even a seasoned mountain dweller like Preacher is shocked by the latest horror lurking in the hills. Trappers are being hunted down like animals. Captured. Murdered. Mutilated. Their hearts carved out of their chests. Some of the victims were Preacher's friends. Now two others--Audie and Nighthawk--have gone missing. Preacher is determined to track them down before they end up on the chopping block. But nothing can prepare him for what's waiting at the end of the trail. . .

A secret cult as old as the Aztecs. A warrior priest with a lust for blood.

And an epic battle that begins and ends--with the ultimate sacrifice . . .
About the Author
---
William W. Johnstone is the USA Today and New York Times bestselling author of over 300 books, including Preacher, The Last Mountain Man, Luke Jensen Bounty Hunter, Flintlock, Savage Texas, Matt Jensen, The Last Mountain Man; The Family Jensen, Sidewinders, and Shawn O'Brien Town Tamer . His thrillers include Phoenix Rising, , Home Invasion, The Blood of Patriots, The Bleeding Edge, and Suicide Mission . Visit his website at www.williamjohnstone.net or by email at dogcia2006@aol.com.

Being the all-around assistant, typist, researcher, and fact checker to one of the most popular western authors of all time, J.A. Johnstone learned from the master, Uncle William W. Johnstone.  

He began tutoring J.A. at an early age. After-school hours were often spent retyping manuscripts or researching his massive American Western history library as well as the more modern wars and conflicts. J.A. worked hard--and learned.

"Every day with Bill was an adventure story in itself. Bill taught me all he could about the art of storytelling. 'Keep the historical facts accurate,' he would say. 'Remember the readers, and as your grandfather once told me, I am telling you now: be the best J.A. Johnstone you can be.'"