Brannigan's Land (A Brannigan's Land Western #1) (Mass Market)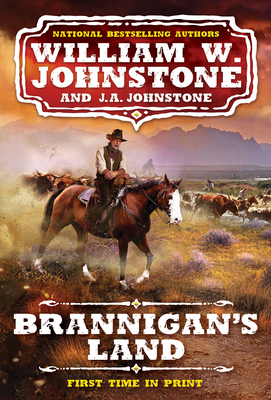 Description
---
The greatest western writers of the 21st century, William W. Johnstone and J.A. Johnstone, kick off a blazing new series featuring Tynan "Ty" Brannigan, a man who traded his tin star for a cattle ranch and a family. But the men he left to rot behind bars have their own hash to settle with him…

Once a respected lawman in Kansas and Oklahoma, Ty Brannigan ended his career as town marshal of Warknife while he was still young enough to marry, start a family, and raise cattle. Now nearly sixty, he's a proud husband, father of four, and proprietor of the Powderhorn Ranch on the outskirts of his old stomping grounds. It's been close to twenty years since Brannigan hung up his six-guns. Now he's more content wrangling cows than criminals…

But for every remorseless outlaw Brannigan put in jail, noosed, or left the vultures, he made even more enemies. Thieves and killers looking to settle old scores have tracked the ex-lawdog to his ranch. They've made the mistake of targeting his wife and children—only to discover that Ty Brannigan enforces his own law with a lightning-fast draw and a deadshot aim.
About the Author
---
William W. Johnstone is the #1 bestselling Western writer in America and the New York Times and USA Today bestselling author of hundreds of books, with over 50 million copies sold. Born in southern Missouri, he was raised with strong moral and family values by his minister father, and tutored by his schoolteacher mother. He left school at fifteen to work in a carnival and then as a deputy sheriff before serving in the army. He went on to become known as "the Greatest Western writer of the 21st Century." Visit him online at WilliamJohnstone.net.

J.A. Johnstone learned to write from the master himself, Uncle William W. Johnstone, who began tutoring J.A. at an early age. After-school hours were often spent retyping manuscripts or researching his massive American Western History library as well as the more modern wars and conflicts. J.A. worked hard and learned, later going on to become the co-author of William W. Johnstone's many bestselling westerns and thrillers. J.A. Johnstone lives on a ranch in Tennessee and more information is at WilliamJohnstone.net.