A Postcard from Kasos, 1965 (Hardcover)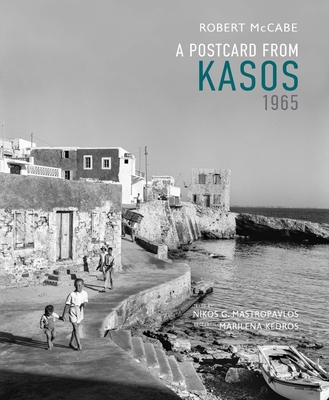 $35.00

Special Order - Subject to Availability
Description
---
A ravishing photographic portrait of a hidden gem of the Aegean
Kasos is the southernmost island of the Dodecanese, lying between Karpathos and Crete. Roughly eleven miles long and four miles wide, Kasos was famed from antiquity as a center of shipbuilding, and played a role in the Greek War of Independence. But with the advent of steam, the island's shipyard closed, and its population dwindled. Today some one thousand people remain on the island, living in five small villages full of historic homes and churches.
In 1965, Robert McCabe traversed the stormy seas to Kasos, and was instantly captivated by its rocky, mountainous landscape and sparkling beaches. Through his lens, we encounter the island's daily life and striking terrain; from its ports, where crowds await the mail's arrival; to the villages, where carefree children play in the streets, dancers step to the music of lyres and violins, and friends gather for coffee; to the mountaintop views of fields, shores, and islands nestled in the sea. In a stark contrast to the transformation undergone by other Greek islands, many of the scenes depicted in McCabe's photographs remain almost unchanged today.
The text, by Nikos G. Mastropavlos, a distinguished journalist who grew up on Kasos, brings the photographs to life and sheds light on the island's history. Mastropavlos and another essayist of Kasiote ancestry, Marilen Frangoulis Kedros, offer thoughtful reflections on the meaning of the island to its inhabitants and their descendants.
Featuring stunning full-page tritone reproductions of McCabe's photographs, A Postcard from Kasos, 1965 will appeal to all travelers off the beaten track.
About the Author
---
Robert A. McCabe started taking photographs in 1939 when he was five. A trip to Europe in 1954 produced the first of his many iconic images of Greece, and a visit to Kasos in 1965 resulted in most of the images found inside this book. McCabe has exhibited his work in Greece and the United States, as well as London, Paris, and Brussels. He has published eighteen photo books on subjects including Greece, France, Italy, China, Antarctica, New York City, and Havana.

Nikos G. Mastropavlos, born and raised on Kasos, is a journalist, a cultural researcher, and the editor of eudemonia.gr, a website focused on Greek culture. For twenty-five years he was an editor of the Sunday newspaper To Vima, covering travel and the visual arts.

Marilen Frangoulis Kedros was born in Belgium to Kasiote parents. She currently resides in Athens and frequently visits Kasos, where she works on renovation projects. Over the years, she has forged strong friendships with the locals, and has come to discover the layers of Kasos hidden to the casual visitor. She meets yearly for a family reunion in Kasos.