Social Authorship and the Advent of Print (Paperback)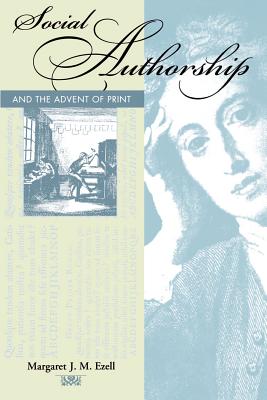 $30.00

Not Available In-Store - Usually Ships from Warehouse in 1-5 Days
Description
---
How did academic and literary writers living in rural Britain in the 1680s establish their careers and find audiences for their work? What factors influenced the choices of essayists and dramatists who lived outside London and the university cities? Who read the works of regional poets and natural scientists and how were they circulated?
In this engaging study of the development of literary industry and authorship in early modern Britain, Margaret Ezell examines the forces at work at a time when print technology was in competition with older manuscript authorship practices and the legal status of authors was being transformed. She also explores the literary concepts that subsequently developed out of new commercial practices, such as the rise of the classic text and the marketing of uniform series editions.
Ezell's interdisciplinary approach draws together the history of the book and cultural history. The result allows the reader a glimpse of literary life as practiced by social authors in the context of the development of commercial publishing and the formalization of copyright laws defining texts and authors. Ezell examines how early modern publishers went about choosing books to publish and why some groups of writers--social authors--were successful without relying on the growing publishing and bookselling industries. She concludes that, especially for writers living away from large cities, privately produced and circulated manuscripts remained the best means of transmitting literary or academic work and achieving recognition as an author. An underlying question, Ezell notes, is whether the Internet will inspire the reemergence of the social author, whose work can be circulated to readers without the assistance of a publishing firm.
About the Author
---
Margaret J. M. Ezell is the John Paul Abbott Professor of Liberal Arts at Texas A & M University. Her books include Writing Women's Literary History, also available from Johns Hopkins.