Blood and Guts in High School (Paperback)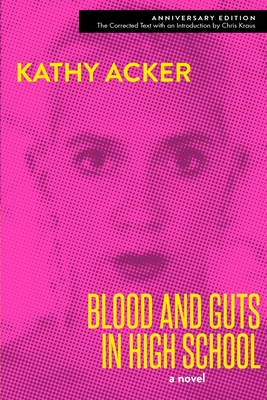 $16.00

Not Available In-Store - Usually Ships from Warehouse in 1-5 Days
Staff Reviews
---
This is not literature, this is the anti-novel. The writing is aggressive, caustic, and brutal. A bloodcurdling scream that scrambles any familiar notion of logic, eschews grammar completely at times, and inhabits a realm of violent surrealism. It takes place within the mind of a young girl named Janey, between ages 10 and 14, who is shaped into a role by patriarchy, capitalism, and sexual abuse. The only escape she can imagine is self-destruction. This story marches to the beat of its own anarchic drum, and the marching order is dictated by one of the most urgent feminist voices fiction has ever known. Ultimately the anti-novel's effect is liberating, and it urges one to be creative with utter abandon. Though it was unnerving and extremely graphic, I am awe-struck by its full effect. After all, there is no better way to resist than to take the novel, a historically male object that's gone largely unchanged since the 19th century, and tear it to pieces.
—
Salvatore
Description
---
A masterpiece of surrealist fiction, steeped in controversy upon its first publication in 1984, Blood and Guts in High School is the book that established Kathy Acker as the preeminent voice of post-punk feminism. With 2017 marking the 70th anniversary of her birth, as well as the 10th year since her death this transgressive work of philosophical, political, and sexual insight--with a new introduction by Chris Kraus--continues to become more relevant than ever before. In the Mexican city of Merida, ten-year-old Janey lives with Johnny--her "boyfriend, brother, sister, money, amusement, and father"--until he leaves her for another woman. Bereft, Janey travels to New York City, plunging into an underworld of gangs and prostitution. After escaping imprisonment, she flees to Tangiers where she meets Jean Genet, and they begin a torrid affair that will lead Janey to her demise. Fantastical, sensual, and fearlessly radical, this hallucinatory collage is both a comic and tragic portrait of erotic awakening.
About the Author
---
Kathy Acker (1948 - 1997) was an influential postmodernist writer and performance artist, whose many books include Great Expectations; Don Quixote; Literal Madness; Empire of the Senseless; In Memoriam to Identity; My Mother: Demonology; Pussy, King of the Pirates; Portrait of an Eye; and Rip-Off Red, Girl Detective.