An Expensive Education (Paperback)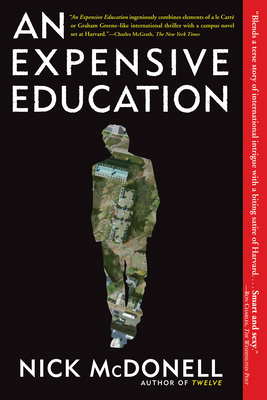 $14.00
Special Order - Subject to Availability
Staff Reviews
---
Wunderkind Nick McDonell has done it again. In his latest novel, An Expensive Education, he brings together two seemingly disparate parts of the world: the world of the Boston Ivy-League elite and the world of war-torn, poverty-stricken Africa. McDonell explores ideas of class, race and nationalism in this story of intrigue about Harvard and it's influence on African politics. In this book we meet: Teak, a Harvard alum CIA operative, Susan Lowell, liberal Harvard professor, David Ayan, an African student adjusting to the Ivy League and his girlfriend, the spoiled, wealthy bohemian Jane. All of these individuals come together to create a spy novel with a conscience, in the tradition of John LeCarre and Graham Greene. I highly recommend reading this book—and discussing it with friends when you finish!
—
Sarah B.
Description
---
Mike Teak has a classic Harvard profile. He's a twenty-five-year-old scholar/athlete from an upper-class family who was recruited by his godfather to work for a U.S. intelligence agency. On a covert mission in a Somali village, he delivers cash and cell phones to Hatashil, a legendary orphan warrior turned rebel leader. It's a routine assignment until, minutes after they meet, the village is decimated by a missile assault, and although Mike escapes, his life is changed forever.
Echoing across continents, the assault disrupts professor Susan Lowell, who has just won a Pulitzer Prize for her book celebrating Hatashil. Also shaken is Lowell's student,
David Ayan, who was born in the targeted village a world away from Harvard's most exclusive final club, the Porcellian, which is courting him and Jane, the smart, risk-taking daughter of East Coast money who's sleeping with him. David Ayan struggles with his identity and Susan Lowell struggles against rumors about her relationship with Hatashil, who has been accused of ordering the village massacre. But it is Mike Teak who faces a deadly struggle--because when he discovers a horrific conspiracy he immediately realizes that he has become expendable, with nowhere to run and no one to trust.