The Steal: The Attempt to Overturn the 2020 Election and the People Who Stopped It (Paperback)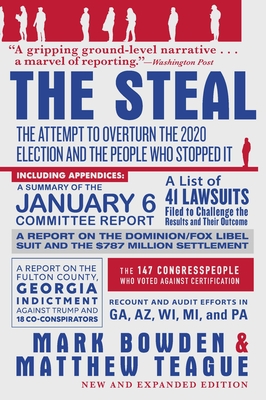 $18.00

Coming Soon - Available for Pre-Order Now
Description
---
"A gripping ground-level narrative...a marvel of reporting: tightly wound... but also panoramic."--Washington Post
"A lean, fast-paced and important account of the chaotic final weeks."--New York Times
In
The Steal,
veteran journalists Mark Bowden and
Matthew Teague offer a week-by week, state-by-state account of the effort to
overturn the 2020 presidential election. In the sixty-four days between
November 3 and January 6, President Donald Trump and his allies fought to
reverse the outcome of the vote.Focusing on six states--Arizona, Georgia,
Michigan, Nevada, Pennsylvania, and Wisconsin--Trump's supporters claimed
widespread voter fraud.
The Steal
is an engaging, in-depth report on what
happened during those crucial nine weeks and a portrait of the dedicated
individuals who did their duty and stood firm against the unprecedented,
sustained attack on our election system and ensured that every legal vote was
counted and that the will of the people prevailed.
In this revised version of the
The Steal,
Mark Bowden
distills the full January 6th Committee Report from its original 300,000
words to a brisk and illuminating few pages. Teague and Bowden have also added
a preface, an afterword, and updates throughout the text to include new
findings from the January 6th Committee Report and Trump's ongoing attempts at
regaining popularity and running for office in 2024.
About the Author
---
Mark Bowden is the author of fifteen books, including the #1 New York Times bestseller Black Hawk Down. He reported at the Philadelphia Inquirer for twenty years and now writes for The Atlantic and other magazines.Matthew Teague is a contributor to National Geographic, The Atlantic, Esquire, and other magazines, and executive producer of Our Friend, a feature film that premiered in 2021.