Reptile Memoirs (Paperback)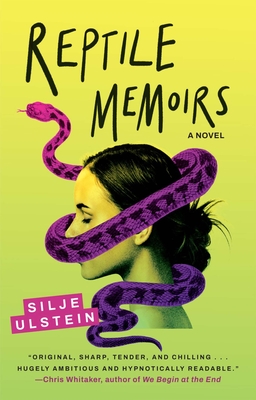 April 2022 Indie Next List
---
"This dark, twisty novel will snake into your thoughts and not let go. Multiple storylines ebb and flow, coming together to reveal shocking secrets that will change your perspective. This debut thriller set in Norway is not one to miss!"
— Katrina Bright-Yerges, Books & Company, Oconomowoc, WI
Description
---
A bestselling Norwegian debut already sold in thirteen territories, Reptile Memoirs is a brilliantly twisty and unusual literary thriller for fans of Gillian Flynn, Jo Nesb , Kate Atkinson, and Tana French, asking the question: Can you ever really shed your skin?
Liv has a lot of secrets. For her, home is the picturesque town of lesund, perched on a fjord in western Norway. One night, in the early-morning embers of a great party in the basement apartment she shares with two friends, Liv is watching TV, high on weed, and sees a python on an Australian nature show. She becomes obsessed with the idea of buying a snake as a pet. Soon Nero, the baby Burmese python, becomes the apartment's fourth roommate. As Liv bonds with Nero, she feels extremely protective, like a caring mother, and she is struck by a desire that surprises her with its intensity. Finally she is safe.
Thirteen years later, in the nearby town of Kristiansund, Mariam Lind goes on a shopping trip with her eleven-year-old daughter, Iben, who angers her mother by asking for a magazine one too many times. Mariam storms off, leaving Iben in the shop and, expecting her young daughter to find her own way home, heads off on a long calming drive. When she returns home in the evening, her husband is relieved to see her but terrified that Iben isn't also there. Detective Roe Olsvik is assigned to the case of Iben's disappearance; he has just turned sixty and is new to the Kristiansund police department. As he interrogates Mariam, he instantly suspects her--but there is much more to this case and these characters than their outer appearances would suggest.
A biting and constantly shifting tale of family secrets, rebirth, and the legacy of trauma, Reptile Memoirs is a brilliant exploration of the cold-bloodedness of humanity, and the struggle to mend broken lives and families.
About the Author
---
Silje Ulstein has a master's degree in Literature from the University of Oslo and studied creative writing at the Bergen Writing Academy. Her debut novel Reptile Memoirs was a bestseller in Norway. She lives in Oslo. Alison McCullough is a Norwegian to English translator and writer. She was awarded a National Centre for Writing Emerging Translator Mentorship in 2017. She lives in Stavanger, Norway.