The Gay Talese Reader: Portraits and Encounters (Paperback)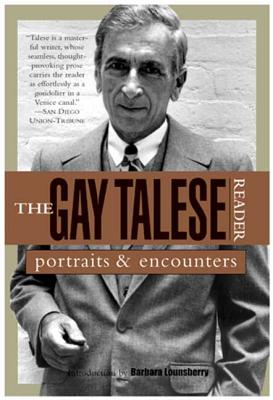 Description
---
As a young reporter for The New York Times, in 1961 Gay Talese published his first book, New York-A Serendipiter's Journey, a series of vignettes and essays that began, "New York is a city of things unnoticed. It is a city with cats sleeping under parked cars, two stone armadillos crawling up St. Patrick's Cathedral, and thousands of ants creeping on top of the Empire State Building."

Attention to detail and observation of the unnoticed is the hallmark of Gay Talese's writing, and The Gay Talese Reader brings together the best of his essays and classic profiles. This collection opens with "New York Is a City of Things Unnoticed," and includes "Silent Season of a Hero" (about Joe DiMaggio), "Ali in Havana," and "Looking for Hemingway" as well as several other favorite pieces. It also features a previously unpublished article on the infamous case of Lorena and John Wayne Bobbitt, and concludes with the autobiographical pieces that are among Talese's finest writings. These works give insight into the progression of a writer at the pinnacle of his craft.

Whether he is detailing the unseen and sometimes quirky world of New York City or profiling Ol' Blue Eyes in "Frank Sinatra Has a Cold," Talese captures his subjects-be they famous, infamous, or merely unusual-in his own inimitable, elegant fashion. The essays and profiles collected in The Gay Talese Reader are works of art, each carefully crafted to create a portrait of an unforgettable individual, place or moment.
About the Author
---
Gay Talese is a journalist and international best-selling author whose works include The Bridge (Walker & Company 2003), The Kingdom and the Power, Honor Thy Father, Thy Neighbors Wife, and Unto the Sons. Currently at work on the follow-up to Unto the Sons, he lives in New York City and Ocean City, New Jersey.

Barbara Lounsberry is a professor of English language and literature at the University of Northern Iowa. She is the co-author with Gay Talese of Writing Creative Nonfiction: The Literature of Reality (1996).