Deification Through the Cross: An Eastern Christian Theology of Salvation (Paperback)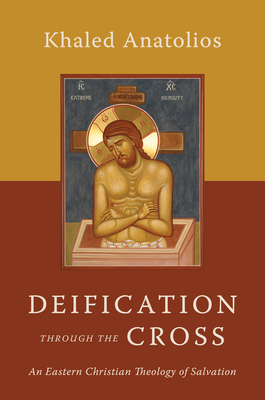 Description
---
A unified soteriology for the whole church.
It is commonly claimed that Western Christianity teaches salvation as deliverance from sin through Jesus's sacrifice on the cross, while Eastern Christianity teaches salvation as deliverance from death--and as deification--through Christ's incarnation. But is it really true that no normative, unified doctrine of salvation is to be found in Scripture and tradition?
Theologian Khaled Anatolios, deeply grounded in both East and West, here advances a soteriology that speaks deeply to all Christians. He argues that both Eastern and Western perspectives are needed, and especially that Eastern theology and liturgy--contrary to Western misperceptions--hold cross, resurrection, and glorification together in an exemplary way. Anatolios uses the phrase "doxological contrition" to suggest that the truth of salvation is found both in Jesus's perfect glorification of God and in his representative repentance for humanity's sinful rejection of its original calling to participate in the life of the Holy Trinity.
Deification through the Cross is a salutary rebuttal of the postmodern fragmentation that assumes no single, normative soteriology can apply globally. Anatolios systematically expounds an integrated soteriology, which he then puts into dialogue with various perspectives, including liberation theology, Girardian theory, and penal substitution. All who seek to understand and teach "the joy of our salvation" will find indispensable help in this magisterial retrieval of an often-misunderstood doctrine.
About the Author
---
Khaled Anatolios is John A. O'Brien Professor of Theology at the University of Notre Dame. He was born in India and grew up in Egypt and Canada. His other books include Retrieving Nicaea: The Development and Meaning of Trinitarian Doctrine.