The Supernatural Enhancements (Paperback)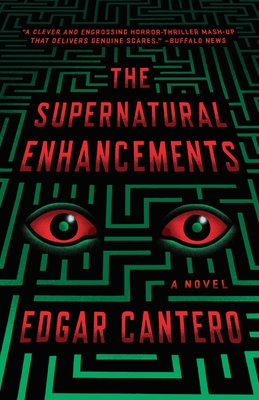 $16.95

Not Available In-Store - Usually Ships from Warehouse in 1-5 Days
Staff Reviews
---
Welcome to your new favorite mystery/adventure/haunted house/all-around weird novel. Told through letters, camera footage, and journal entries, The Supernatural Enhancements has something fantastic to offer in every chapter. The main character, A., though perhaps a bit overly verbose in his opening letters, is a delight to keep up with in his attempts to discover the secrets of Axton House. His sidekick, Niamh, a mute girl who communicates through her journal, is perhaps even more interesting a character than A. Despite being told through so many different mediums, I never found the story-line jarring or difficult to follow. If you're looking for something just a little bit different, pick up The Supernatural Enhancements. You won't be disappointed.
—
EM'S STAFF PICKS
Description
---
The mesmerizing English debut from the bestselling author of Meddling Kids—what begins as a gothic ghost story soon evolves into a wickedly twisted treasure hunt.

Months after the last of the Wells sons jumped out of his bedroom window in Axton House (incidentally forgetting to open it first), a strange couple of Europeans arrive in Virginia to take possession of the estate. A. is the 23-year-old unforeseen scion; Niamh is the mute punk teen girl he refers to as his associate or his bodyguard. Both are ready to settle into their new cushy lifestyle, and the rumors about the mansion being haunted add to their excitement. But ghosts are not in any way the deepest secret of the house.
 
Through journals, letters, security footage, audio recordings, and ciphers, we follow A. and Niamh as they delve into Wells' dubious suicide, the secret society he founded and its mysterious Game —a "bourgeois pastime" of global proportions— in Edgar Cantero's dazzling and original gothic adventure.
About the Author
---
Edgar Cantero is a writer and cartoonist from Barcelona working in Catalan, Spanish and English. He was born in 1981.
Praise For…
---
"The kinetic action of a graphic novel wrapped up in a literary thriller."
     —The Free Lance-Star (Fredericksburg)

"A clever and engrossing horror-thriller mash-up that delivers genuine scares."
    —Buffalo News

"A wonderful, enthralling book. . . . One of those rare literary creations that shortens the long hours of night. You emerge from its pages at sunrise, suddenly aware that you've spent the whole night reading. Few authors create such books. Edgar Cantero does it gracefully."
    —Jason Mott, bestselling author of The Returned

"A spectacular debut novel. . . . Cantero's fresh, original prose style and the steady flow of twists, turns, and code breaking will have mystery, thriller, and supernatural fans glued to their seats until they reach the electrifying conclusion."
     —Library Journal (starred review)

"Eerie, puckish, and full of surprises. . . . Cantero pays homage to Bram Stoker and H. P. Lovecraft and The Shining, but he's no less enamored of The X-Files, fax machines, and punk girls with dreads. The result is a propulsive, beguiling novel that is as easy to get swept up in as it is hard to describe."
     —Justin Taylor, author of Flings

"Quirky in presentation and good fun throughout, Cantero's yarn pleases at every turn."
     —Kirkus Reviews

"A fun and addictive read."
     —LitReactor

"Cantero sets the novel up to be one type of mystery and then he lets other mysteries float into the story. It's not that he invalidates earlier mysteries . . . but rather he makes them no longer as important because this next one is crazy!" 
     —Raging Biblioholism