The Thirst: A Harry Hole Novel (11) (Harry Hole Series #11) (Paperback)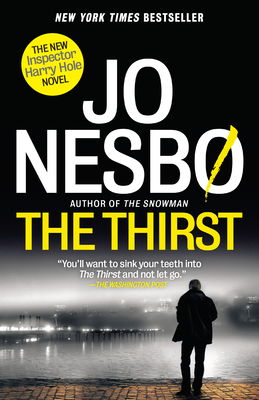 $17.00

Special Order - Subject to Availability
Other Books in Series
This is book number 11 in the Harry Hole Series series.
Description
---
#1 INTERNATIONAL BESTSELLER • In this electrifying thriller, Inspector Harry Hole hunts down a serial murderer who targets his victims—on Tinder. • Part of the New York Times bestselling series.

The murder victim, a self-declared Tinder addict. The one solid clue—fragments of rust and paint in her wounds—leaves the investigating team baffled.

Two days later, there's a second murder: a woman of the same age, a Tinder user, an eerily similar scene.

The chief of police knows there's only one man for this case. But Harry Hole is no longer with the force. He promised the woman he loves, and he promised himself, that he'd never go back: not after his last case, which put the people closest to him in grave danger.

But there's something about these murders that catches his attention, something in the details that the investigators have missed. For Harry, it's like hearing "the voice of a man he was trying not to remember." Now, despite his promises, despite everything he risks, Harry throws himself back into the hunt for a figure who haunts him, the monster who got away.

Don't miss Jo Nesbo's latest Harry Hole thriller, Killing Moon!
About the Author
---
JO NESBØ is a musician, songwriter, economist, and #1 New York Times best-selling author. He has won the Raymond Chandler Award for Lifetime Achievement as well as many other awards. His books have sold 55 million copies worldwide and have been translated into 50 languages. His Harry Hole novels include The Redeemer, The Snowman, The Leopard, Phantom, The Thirst, and most recently Knife, and he is also the author of The Son, Headhunters, Macbeth, The Kingdom and several children's books. He lives in Oslo.
Praise For…
---
"Jo Nesbø certainly has the magic touch when it comes to psycho serial killers.... Intricate plotting keeps the story shifting under our feet. Nesbø is a master at this narrative sleight of hand, and if you can stand the gory details and hang on during the switchback turns, the payoff is its own reward."
—The New York Times Book Review

"[Nesbø is] the reigning king of Scandinavian crime fiction ... [The Thirst is] a big-boned, Technicolor epic ... starting adagio and ending accelerando, but with the kind of close psychological character readings that distinguished his early work."
—The Guardian (London)

"It all starts with a Tinder date in a bar appropriately called Jealousy and ends with death on an ice-covered fjord. In between, The Thirst is filled with horrific murder scenes intensely detailed enough to chill the blood in your veins.... You'll want to sink your teeth into The Thirst and not let go."
—The Washington Post

"Fast moving ... stunning."
—The Times (London)

"Wading into dark and deranged territory ... an edgy and visceral read. [Nesbø] is a master of structure, style and no-pages wasted plotting.... In Nesbø's consistently excellent Hole series, The Thirst may well be the pinnacle."
—Paste Quarterly

"Jo Nesbø has ripped the throat out of the serial-killer genre. He's exsanguinated it, soaking up every dark pleasure and wringing them out onto the page. There's no need to ever read another one, Nesbø has so completely deconstructed the trope with a multi-dimensional novel that blurs lines among crime, psychological procedural and, yes, horror thrillers.... [Hole] survives in a literary landscape dreamt up by Stephen King or Edgar Allen Poe....  Brilliant ... Nesbø shows his true mastery ...  Nesbø's plots are evocative of James Ellroy and Lee Child with crime layered upon crime."
—Arizona Republic

"Exceptional ... Nesbø depicts a heartbreakingly conflicted Harry, who both wants to forget the horrors he's trying to prevent and knows he has to remember them in all their grim detail."
—Publishers Weekly (starred review)

"A gripping, way-scary crime novel.... This one will keep readers awake deep into the night."
—Bill Ott, Booklist (starred review)
 
"Explosive ... twists within twists within twists ... yet more evidence of why Scandinavian crime writers continue to dominate international bestseller lists."
—Kirkus Reviews

"[The Thirst] features thoroughly developed characters, an intricate plot, and suspenseful twists, all hallmarks of a master storyteller."
—Library Journal (starred review)
 
Praise for the work of Jo Nesbø:

"Nesbø writes like an angel. As in Lucifer."
—The Philadelphia Inquirer
 
"Nesbø explores the darkest criminal minds with grim delight and puts his killers where you least expect to find them.... His novels are maddeningly addictive."
—Vanity Fair
 
"Jo Nesbø is my new favorite thriller writer and Harry Hole is my new hero."
—Michael Connelly
 
"Nesbø ... is a giant of the Scandinavian mystery."
—The Boston Globe
 
"Crime fiction's most tortured and compelling hero. Alas, no armor exists strong enough to keep Harry from his demons, or the rest of us from Harry."
—Booklist (starred review)
 
"Nesbø's books have a serious, socially significant heft, as well as a confident (even cocky) narrative stride that is unmatched. These aren't mere investigatory trifles to be enjoyed and forgotten; their unnerving horrors linger."
—Richmond Times-Dispatch
 
"In the crowded field of Scandinavian crime fiction, Nesbø's books stand out.... Nesbø likes to rip plots up ... to play with the conventions of his genre."
—The New Yorker

"Harry Hole is fast becoming one of the planet's favorite detectives. And his demons are almost as legendary as his observational and analytical skills."
—The Mirror (UK)
 
"[Nesbø is] the writer most likely to take the ice-cold crown in the critically acclaimed—and now bestselling—category of Nordic noir."
—Los Angeles Times