The Water Knife (Paperback)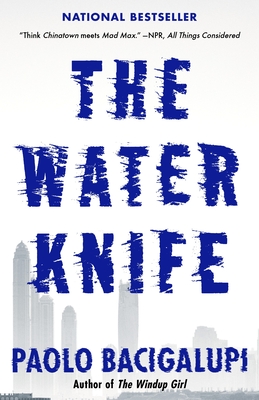 Staff Reviews
---
Since reading Bacigalupi's The Windup Girl, I've found myself continuously wondering about the dangers of corporate-driven crops and the loss of precious biodiversity in the world. Bacigalupi expertly tackles another powerful environmental motif in The Water Knife: water. In the not-so-distant future, Southwest states battle over the ever-dwindling Colorado River and water companies guard reserves like gold. With Lake Mead's record-low levels and infamous "bathtub ring" as an ominous symbol of severe drought even now, water is more precious than ever. Follow protagonist Angel Velazquez, who works for the Southern Nevada Water Authority as a spy and assassin, as he sabotages water supply and ends up in crumbling Phoenix. Follow Lucy, too, a journalist who stuck around to document the city's drought-driven descent. Bacigalupi's passion for legitimate research-based writing and all-too-real possibilities bring this dystopian-style novel to life. With compelling characters and vivid diction, he paints a grim picture of a reality that isn't too far off if measures aren't taken to protect the inestimable resource that gives this arid area vibrant life.
—
Becky
June 2015 Indie Next List
---
"The near-future depicted in The Water Knife is disturbing and disorienting in its familiarity. Imagine an America so scraped away by ecological disasters - hurricanes, dust storms, and drought - and the brutal struggle to control the water supply that results in a refugee crisis in the Southwest rivaling those that have devastated third world nations. This book moves like a high-octane thriller but includes a wealth of warnings about where America and the world at large may be headed: a dark future where the brutal reality of everyday survival makes people, corporations, and governments do terrible things. The Water Knife may turn out to be 2015's most talked about book."
— Vladimir Verano, Third Place Books, Lake Forest Park, WA
Description
---
NATIONAL BESTSELLER • A "fresh, genre-bending thriller" (Los Angeles Times) set in the near future when water is scarce and a spy, a hardened journalist and a young Texas migrant find themselves pawns in a corrupt game.

"Think Chinatown meets Mad Max." NPR, All Things Considered

In the near future, the Colorado River has dwindled to a trickle. Detective, assassin, and spy, Angel Velasquez "cuts" water for the Southern Nevada Water Authority, ensuring that its lush arcology developments can bloom in Las Vegas. When rumors of a game-changing water source surface in Phoenix, Angel is sent south, hunting for answers that seem to evaporate as the heat index soars and the landscape becomes more and more oppressive. There, he encounters Lucy Monroe, a hardened journalist with her own agenda, and Maria Villarosa, a young Texas migrant, who dreams of escaping north. As bodies begin to pile up, the three find themselves pawns in a game far bigger and more corrupt than they could have imagined, and when water is more valuable than gold, alliances shift like sand, and the only truth in the desert is that someone will have to bleed if anyone hopes to drink.
About the Author
---
PAOLO BACIGALUPI is a Hugo, Nebula, and Michael L. Printz Award winner, as well as a National Book Award finalist. He is also a winner of the Theodore Sturgeon Memorial Award, the John W. Campbell Award, and a three-time winner of the Locus Award. His short fiction has appeared in The Magazine of Fantasy & Science Fiction, Asimov's Science Fiction Magazine, and High Country News. He lives with his wife and son in western Colorado, where he is working on a new novel.
 

Praise For…
---
Amazon.com, Best Books of 2015 • NPR Book Concierge, Best Books of 2015 • Kansas City Star, Best Fiction of 2015 • Paste Magazine, Best Fiction of 2015

"[A] fresh, genre-bending thriller.... Reading Paolo Bacigalupi's richly imagined novel The Water Knife brings to mind the movie Chinatown. Although one is set in the past and the other in a dystopian future, both are neo-noir tales with jaded antiheroes and ruthless kingpins who wield water as lethal weapons to control life—and mete out death.... Bacigalupi weaves page-turning action with zeitgeisty themes.... His use of water as sacred currency evokes Frank Herbert's Dune. The casual violence and slang may bring to mind A Clockwork Orange. The book's nervous energy recalls William Gibson at his cyberpunk best. Its visual imagery evokes Dust Bowl Okies in the Great Depression and the catastrophic 1928 failure of the St. Francis Dam that killed 600 people and haunted its builder, Mulholland, into the grave.... Reading the novel in 93-degree March weather while L.A. newscasts warned of water rationing and extended drought, I felt the hot panting breath of the desert on my nape and I shivered, hoping that Bacigalupi's vision of the future won't be ours." —Denise Hamilton, Los Angeles Times

"[A] water-wars thriller set in the Southwest only a few decades from now.... While Bacigalupi's environmental message could not be more powerful, it's neatly embedded in a nonstop action plot, full of murders and betrayals, that should satisfy thriller readers who didn't even think they cared about these issues." —Gary K. Wolfe, The Chicago Tribune
 
"Mr. Bacigalupi's is the most thought-provoking of the recent apocalypses. It's a very timely read for policy-makers, as well as anyone living in the threatened American West. That's the thing about sci-fi authors: Some of them really mean it." —Tom Shippey, The Wall Street Journal
 
"Residents in the southwestern United States enduring that water crisis will appreciate the precision with which Bacigalupi imagines our thirsty future.... Bacigalupi is a grim, efficient and polished narrator.... Our waterless future looks hot—and filled with conflict."—Hector Tobar, The Washington Post

"Bacigalupi's characters are engagingly unpredictable, and his story blasts along like a twin-battery Tesla. The Water Knife is splendid near-future fiction, a compelling thriller–and inordinately fun."—Cleveland Plain Dealer
 
"A noir-ish, cinematic thriller set in the midst of a water war between Las Vegas and Phoenix.... Think Chinatown meets Mad Max."—NPR, All Things Considered

"Paolo Bagicalupi's new near-future thriller arrives at a depressingly appropriate moment.... The Water Knife is a carefully constructed thriller, with elements ofChinatown and The Maltese Falcon. But the novel ultimately transcends its pulpier origins. Bacigalupi offers a carefully calibrated warning of what might happen if the US refuses to address global climate change and its own water-wasting ways. It's one we ignore at our peril." —Michael Berry, Earth Island Journal

"These days are coming, and as always fiction explains them better than fact. This is a spectacular thriller, wonderfully imagined and written, and racing through it will make you think—and make you thirsty." —Lee Child, author of Personal

"An intense thriller and a deeply insightful vision of the coming century, laid out in all its pain and glory. It's a water knife indeed, right to the heart." —Kim Stanley Robinson, author of Aurora
 
"Anyone can write about the future. Paolo Bacigalupi writes about the future that we're making today, if we keep going the way we are. It makes his writing beautiful . . . and terrifying."—John Scalzi, author of Lock In

"The Water Knife is an noir-tinged, apocalyptic vision of the near-future: What will the world be like, and how will we live in it? Bacigalupi already seems to live there. Once I started, I couldn't put it down." —Kelly Link, author of Get in Trouble

"A fresh cautionary tale classic, depicting an America newly shaped by scarcity of our most vital resource. The pages practically turn themselves in a tense, taut plot of crosses and double-crosses, given added depth by riveting characters. This brutal near-future thriller seems so plausible in the world it depicts that you will want to stock up on bottled water."—Library Journal, starred review

"The frightening details of how the world might suffer from catastrophic drought are vividly imagined. The way the novel's environmental nightmare affects society, as individuals and larger entities—both official and criminal—vie for a limited and essential resource, feels solid, plausible, and disturbingly believable. The dust storms, Texan refugees, skyrocketing murder rate, and momentary hysteria of a public ravenous for quick hits of sensational news seem like logical extensions of our current reality. An absorbing . . . thriller full of violent action."--Kirkus