A Little Life (Paperback)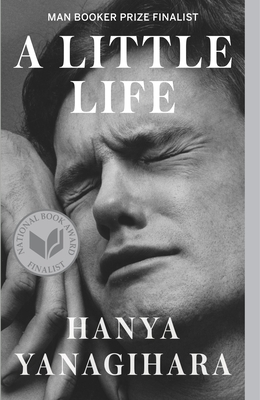 Staff Reviews
---
This book tore me up. There were times when I could only read a few pages, and then I had to put it aside. There were times when I couldn't return to it for days. So why am I suggesting that you take up such a challenging, and at times, devastating read? Because it deals so beautifully and thoughtfully with the matters of the heart. The inestimable value of friendship, how we learn to trust, our sometimes misguided efforts to understand each other. It's about debilitating messages learned in our youth, messages that we cling to with tenacity despite all the evidence of their untruth. It's about the ongoing process of trying to know ourselves. There is so much here, consummately written. I was blown away.
—
Walt
Warning: this book is likely to devastate you. Don't write it off so quickly, however. As heartbreaking as this book is, A Little Life is also a book that is not likely to leave your thoughts while you're reading it or after long after you've finished. Hanya Yanagihara has crafted her characters in a masterful--yet flawed--manner. Her prose alone will keep you hooked through all 800+ pages and you are sure to be kept on your toes as you progress through the lives of four friends who met in college. A Little Life explores what it is to be human, and although treacherous, is well worth the read.
—
Heather H.
March '15 Indie Next List
---
"With heartaching perfection, Yanagihara follows four college roommates through three decades of relationships, careers, struggles, and triumphs. She opens episodic windows into the worlds of JB, Malcolm, Willem, and Jude - the artist, the architect, the actor, and the lawyer. At the novel's heart is Jude, the group's emotional epicenter and its eternal mystery who is determined to keep his past hidden and to shoulder its terrible effects on the present. A Little Life is a deeply felt journey through friendship, love, trust, and hurt that immerses the reader so fully each character becomes a friend and the intricacies of their lives are sorely missed after the last page is turned."
— Melinda Powers, Bookshop Santa Cruz, Santa Cruz, CA
Description
---
NATIONAL BESTSELLER • A stunning "portrait of the enduring grace of friendship" (NPR) about the families we are born into, and those that we make for ourselves. A masterful depiction of love in the twenty-first century.

NATIONAL BOOK AWARD FINALIST • MAN BOOKER PRIZE FINALIST • WINNER OF THE KIRKUS PRIZE

A Little Life follows four college classmates—broke, adrift, and buoyed only by their friendship and ambition—as they move to New York in search of fame and fortune. While their relationships, which are tinged by addiction, success, and pride, deepen over the decades, the men are held together by their devotion to the brilliant, enigmatic Jude, a man scarred by an unspeakable childhood trauma. A hymn to brotherly bonds and a masterful depiction of love in the twenty-first century, Hanya Yanagihara's stunning novel is about the families we are born into, and those that we make for ourselves.

Look for Hanya Yanagihara's bestselling new novel, To Paradise, available now.
About the Author
---
HANYA YANAGIHARA lives in New York City.
Praise For…
---
NATIONAL BOOK AWARD FINALIST • MAN BOOKER PRIZE FINALIST • WINNER OF THE KIRKUS PRIZE • ONE OF THE BEST BOOKS OF THE YEAR: The New York Times • The Washington Post • The Wall Street Journal • NPR • Vanity Fair • Vogue • Minneapolis Star Tribune • St. Louis Post-Dispatch • The Guardian • O, The Oprah Magazine • Slate • Newsday • Buzzfeed • The Economist • Newsweek • People • Kansas City Star • Shelf Awareness • Time Out New York • Huffington Post • Book Riot • Refinery29 • Bookpage • Publishers Weekly • Kirkus

"Astonishing." —The Atlantic

"Deeply moving. . . . A wrenching portrait of the enduring grace of friendship." —NPR
 
"Elemental, irreducible." —The New Yorker

"Hypnotic. . . . An intimate, operatic friendship between four men." —The Economist
 
 "Capacious and consuming. . . . Immersive." —The Boston Globe

"Beautiful." —Los Angeles Times

"Exquisite. . . . It's not hyperbole to call this novel a masterwork—if anything that word is simply just too little for it." —San Francisco Chronicle

"Remarkable. . . . An epic study of trauma and friendship written with such intelligence and depth of perception that it will be one of the benchmarks against which all other novels that broach those subjects (and they are legion) will be measured. . . . A Little Life announces [Yanagihara] as a major American novelist." —The Wall Street Journal

"Utterly gripping. Wonderfully romantic and sometimes harrowing, A Little Life kept me reading late into the night, night after night." —Edmund White

"Spellbinding . . . . An exquisitely written, complex triumph." —O, The Oprah Magazine
 
"Drawn in extraordinary detail by incantatory prose. . . . Affecting and transcendent." —The Washington Post

"[A Little Life] lands with a real sense of occasion: the arrival of a major new voice in fiction. . . . Yanagihara's achievement has less to do with size . . . than with the breadth and depth of its considerable power, which speaks not to the indomitability of the spirit, but to the fragility of the self." —Vogue

"Exquisite. . . . The book shifts from a generational portrait to something darker and more tender: an examination of the depths of human cruelty, counterbalanced by the restorative powers of friendship." —The New Yorker

"A book unlike any other. . . . A Little Life asks serious questions about humanism and euthanasia and psychiatry and any number of the partis pris of modern western life. . . . A devastating read that will leave your heart, like the Grinch's, a few sizes larger." —The Guardian

"Exceedingly good." —Newsweek

"A Little Life is unlike anything else out there. Over the top, beyond the pale and quite simply unforgettable." —The Independent

"Piercing. . . . [Yanagihara is] an author with the talent to interrogate the basest and most beautiful extremes of human behaviour with sustained, bruising intensity." —The Times Literary Supplement

"A brave novel. . . . Impressive and moving." —Literary Review

"Enthralling and completely immersive. . . . Stunning." —Daily News