American Girls: Social Media and the Secret Lives of Teenagers (Paperback)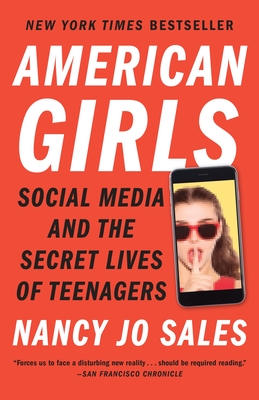 $16.95
Not Available In-Store - Usually Ships from Warehouse in 1-5 Days
Staff Reviews
---
Brace yourself, and listen to the voices of 200-odd thirteen to nineteen year old girls, who give us a scary peek over the shoulders of our youngest women, many of whom spend enormous amounts of time staring at the screens of their phones. What they often see on "social media" is misogyny, exhibitionism and sexual abuse. Author Sales will surely get her wish, that this book help us face and begin to solve the problems our children grapple with at the time in their lives when their identities are just beginning to form.
—
Georgeann
Description
---
A New York Times Bestseller

Award-winning Vanity Fair writer Nancy Jo Sales crisscrossed the country talking to more than two hundred girls between the ages of thirteen and nineteen about their experiences online and off. They are coming of age online in a hypersexualized culture that has normalized extreme behavior, from pornography to the casual exchange of nude photographs; a culture rife with a virulent new strain of sexism; a culture in which teenagers are spending so much time on technology and social media that they are not developing basic communication skills.
 
The dominant force in the lives of girls coming of age in America today is social media: Instagram, Whisper, Vine, Youtube, Kik, Ask.fm, Tinder. 

Provocative, explosive, and urgent, American Girls will ignite much-needed conversation about how we can help our daughters and sons negotiate the new social and sexual norms that govern their lives.
About the Author
---
NANCY JO SALES is an award-winning journalist and author who has written for Vanity Fair, New York, Harper's Bazaar, and many other publications. She is known for her reporting on youth culture and crime and for her profiles of pop-culture icons. She won a 2011 Front Page Award for "Best Magazine Feature" and a 2010 Mirror Award for "Best Profile, Digital Media." Her 2013 book, The Bling Ring: How a Gang of Fame-Obsessed Teens Ripped Off Hollywood and Shocked the World, tells the true story behind the Sofia Coppola film The Bling Ring, which was based on Sales's 2010 Vanity Fair piece "The Suspects Wore Louboutins." Born in West Palm Beach, Florida, Sales graduated summa cum laude from Yale in 1986. She became a contributing editor at Vanity Fair in 2000. She has a daughter, Zazie, and lives in the East Village in New York City.
Praise For…
---
"American Girls is probably one of the most urgent conversation starters I've read in some time." —Psychology Today

"Sales digs into every aspect of girls' online lives, revealing myriad disturbing details…If you have a teenage daughter, read American Girls. Have her read it, too." —Newsday
 
"Adult readers will be shocked… [they] might be on Facebook and Twitter, but they probably haven't even heard of most of the apps that teens use, let alone how they use them…What Sales makes clear is just how prevalent social media is in the life of an American teenager." —The New York Post

"Based on interviews with hundreds of teens from 13 to 19, this exploration of the hypersexualized, social-media-ruled world girls grow up in today is eye-opening and sobering." —People

"Social media is life; social media destroys life. For "American Girls," Ms. Sales spent two and a half years investigating this paradox…. and she's exquisitely unobtrusive as she does it. Conversations that are not safe for adults seem to open like apps under her fingertips. She has sophisticated methods of infiltration." —The Wall Street Journal

"Sales forces us to face a disturbing new reality in a book that should be required reading for parents, teachers, school administrators, legislators and the boys' club of Silicon Valley." —The San Francisco Chronicle

"Sales painstakingly draws on scholarly research and numerous interviews with girls from New Jersey to California to offer a harrowing glimpse into a world where self-esteem, friendships and sexuality play out, and are defined by the parameters of social media." —USA Today

"In her new book American Girls: Social Media and the Secret Lives of Teenagers, readers are afforded the opportunity to understand what is really going on in the lives of teenagers, especially our girls. ..This book stands apart from other books targeted at understanding the concerns and current plight of teenage girls… A must read for all parents." —Examiner

"This book is an ice-cold, important wake-up call." —Kirkus Reviews

"This is an important book... It's an essential read if you have teenagers or tweens in your life...I highly recommend American Girls for anyone who wants to understand how our ongoing revelation is playing out for teenagers." —WebInkNow

"This intelligent, history-grounded investigation by journalist Sales (The Bling Ring) finds dismaying evidence that social media has fostered a culture "very hostile" to girls in which sexism, harassment, and cyberbullying have become the "new normal," along with the "constant chore" of tailoring one's image for public consumption and approval… Parents, educators, administrators, and the purveyors of social media platforms should all take note of this thoughtful, probing, and urgent work." —Publishers Weekly *Starred Review*