House of Echoes: A Novel (Hardcover)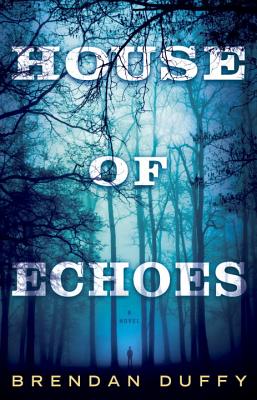 $26.00
Special Order - Subject to Availability
Staff Reviews
---
I think the best word to describe this book is atmospheric: from page one I was plunged into the beautiful, lonely town where Ben Tierney lives. He moved his wife and kids from New York City to Swannhaven, hoping for a fresh start on the acres of forest and meadow he purchased, along with a rambling estate that is, even at its best, slightly creepy. Duffy's writing is what makes the story stand out: one minute he's lovingly describing the breadth of a country sunset, the next he is scaring the daylights out of you. And everything in this book is scary, from the wind screaming through the eaves of the expensively remodeled estate, to the malevolent watcher in the woods, to the townspeople who are straight out of a Shirley Jackson story - and I couldn't put it down! I made the mistake of reading this at night, which meant I had to read it all the way through or risk nightmares. Even still, I loved House of Echoes and I look forward to Duffy's next book!
—
Lauren
Description
---
In this enthralling and atmospheric thriller, one young family's dream of a better life is about to become a nightmare.

Ben and Caroline Tierney and their two young boys are hoping to start over. Ben has hit a dead end with his new novel, Caroline has lost her banking job, and eight-year-old Charlie is being bullied at his Manhattan school.

When Ben inherits land in the village of Swannhaven, in a remote corner of upstate New York, the Tierneys believe it's just the break they need, and they leave behind all they know to restore a sprawling estate. But as Ben uncovers Swannhaven's chilling secrets and Charlie ventures deeper into the surrounding forest, strange things begin to happen. The Tierneys realize that their new home isn't the fresh start they needed . . . and that the village's haunting saga is far from over.

House of Echoes is a novel that shows how sometimes the ties that bind us are the only things that can keep us whole.

Praise for House of Echoes

"Warning: Brendan Duffy's debut novel is not for scaredy-cats. If you live for heart-racing chills, this thriller—about a young family that packs up their life in Manhattan for a spot in upstate New York (that turns out to be haunted, of course)—is already calling out your name."—Refinery29

"Already drawing comparisons to Stephen King's The Shining, Brendan Duffy's debut novel offers chills without sacrificing character development. But be warned: you might want to leave the lights on for this one."—Paste

"Shades of The Shining are spattered through Brendan Duffy's debut novel—a large isolated house, a young family, nutty and somewhat supernatural goings-on—but House of Echoes grounds itself in different ways for an enjoyable read."—USA Today

"An exquisite novel . . . expertly plotted, beautifully written . . . It's complex, deft and, once you dive in, you want to stay in this often-scary world. . . . This is a book that deserves to be savored."—The Star-Ledger

"Duffy's debut is a riveting blend of horror and family drama. The remote location, creepy townspeople and the village's savage history produce a harrowing tale that keeps readers quickly turning the pages. As this complex family struggles with mental illness and their child's isolation, their redemption comes in the revelation that they can survive anything together."—RT Book Reviews (4 1/2 stars)
 
"House of Echoes is one of those stories where you know something bad is going to happen, but you hope it won't. It's one you'll remember long after reading the last page."—New York Journal of Books
About the Author
---
Brendan Duffy is an editor. He lives in New York, where he is at work on his second novel.
Praise For…
---
"Warning: Brendan Duffy's debut novel is not for scaredy-cats. If you live for heart-racing chills, this thriller—about a young family that packs up their life in Manhattan for a spot in upstate New York (that turns out to be haunted, of course)—is already calling out your name."—Refinery29
 
"Already drawing comparisons to Stephen King's The Shining, Brendan Duffy's debut novel offers chills without sacrificing character development. But be warned: you might want to leave the lights on for this one."—Paste

"Shades of The Shining are spattered through Brendan Duffy's debut novel—a large isolated house, a young family, nutty and somewhat supernatural goings-on—but House of Echoes grounds itself in different ways for an enjoyable read."—USA Today
 
"An exquisite novel . . . expertly plotted, beautifully written . . . It's complex, deft and, once you dive in, you want to stay in this often-scary world. . . . This is a book that deserves to be savored."—The Star-Ledger
 
"Duffy's debut is a riveting blend of horror and family drama. The remote location, creepy townspeople and the village's savage history produce a harrowing tale that keeps readers quickly turning the pages. As this complex family struggles with mental illness and their child's isolation, their redemption comes in the revelation that they can survive anything together."—RT Book Reviews (4 1/2 stars)
 
"Debut novelist Duffy expertly builds suspense, leaving readers eager to know what happens while simultaneously dreading the outcome. This creepy page-turner will appeal to fans of Stephen King and anyone who loves a good ghost story."—Library Journal
 
"House of Echoes is one of those stories where you know something bad is going to happen, but you hope it won't. It's one you'll remember long after reading the last page."—New York Journal of Books

"Duffy walks a fine line between crime and horror, skillfully manipulating the threats of a punishing winter, creepy historic setting, and strange villagers. . . . This unsettling, atmospheric tale is right up the alley of those who enjoyed Jennifer McMahon's Winter People; and the shared appeal with Stephen King's The Shining is undeniable."—Booklist (starred review)
 
"A fluid, suspenseful yet subtle thriller, with touches of humor, evocative writing, and characters that are both familiar and uniquely fascinating. A wonderfully tense and heart-wrenching debut."—Kirkus Reviews (starred review)

"House of Echoes is that rare debut that grabs the reader by the lapels with both hands and never lets go. It's compelling, brooding, atmospheric, and propulsive—and it accomplishes something frightening and unique: a portrayal of the great outdoors as beautiful, amoral, and claustrophobic at the same time. It will stay with you long after you read the last page, and it may very well haunt your dreams."—C. J. Box, New York Times bestselling author of Endangered
 
"House of Echoes is dark, emotionally affecting and truly creepy. Brendan Duffy dives straight into the ugly core of small-town America and doesn't flinch a bit—a fantastic story and a great book."—Kelly Braffet, author of Save Yourself
 
"House of Echoes is the captivating tale of a bruised family's escape to their dream house in a bucolic small town, only to find themselves trapped by its dark legends. In this relentlessly chilling story, Brendan Duffy breathes new life into the gothic tradition. Uncanny and hypnotic, it will freeze your heart."—Keith Donohue, New York Times bestselling author of The Boy Who Drew Monsters
 
"Brendan Duffy's House of Echoes is one of those wonderful stories that come along only once in a while, a beautifully nuanced and riveting family drama set within a terrifying landscape that has you turning pages long past bedtime. But keep the light burning and read to the end. That's when you realize you've been in the hands of a very clever storyteller, and that what you thought you'd been reading was all along something else."—Carla Buckley, author of The Deepest Secret