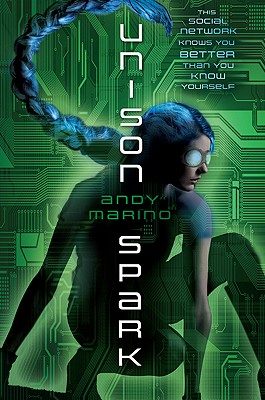 $16.99
Special Order - Subject to Availability
Description
---
Everyone is obsessed with Unison, the social network that knows you better than you know yourself. Everyone who can afford it, that is. Living beneath the vast ceiling that separates Eastern Seaboard City into rich topside and poor sub-canopy zones, fifteen-year-old Mistletoe can only dream of logging in and has to make do with technological hand-me-downs.
Worlds collide when Ambrose Truax, the privileged heir to the Unison empire, wanders into the dangerous sub-canopy streets and Mistletoe saves him from suspicious, uniformed men. They soon discover that they share eerily similar dreams, hinting at a significant past.
Together, Ambrose and Mistletoe begin to unravel the mystery of their identities and learn that they're pawns in a bigger game: the Unison 3.0 upgrade, a whole new kind of Friendship.
About the Author
---
Andy Marino was born and raised in Clifton Park, New York. He graduated from NYU and currently lives in Queens. "Unison Spark" is his first novel. Visit him online at andy-marino.com.
Praise For…
---
"Marino keeps the story moving with archetypal characters, multiple and diverse settings, a lightning-fast pace, and a firm footing in teens' fascination with social networks." --Booklist  "Give this novel to readers who are obsessed with social networking sites, or are fans of films such as The Matrix, Tron, and Inception."--School Library Journal