Disappearing Desert: The Growth of Phoenix and the Culture of Sprawl (Paperback)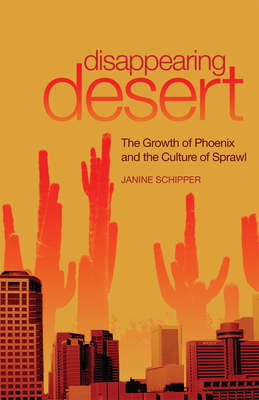 Description
---
Phoenix, Arizona, is one of the fastest-growing metropolitan areas in the United States. The city's expansion--at the rate of one acre per hour--comes at the expense of its Sonoran Desert environment. For some residents, the American Dream has become a nightmare.
In this provocative book, Janine Schipper examines the cultural forces that contribute to suburban sprawl in the United States. Focusing on the Phoenix area, she examines sustainable development in Cave Creek, various master-planned suburbs, and the Salt River Pima-Maricopa Indian Reservation to explore suburbanization and ecological destruction. She also explains why sprawl continues despite the heavy toll it takes on the environment.
Schipper gives voice to community members who have experienced the pressures of sprawl and questioned fundamental assumptions that sustain it. She presents the perspectives of the many players in the sprawl debate--from developers and politicians to environmentalists and property-rights advocates--not merely to document the phenomenon but also to reveal how seemingly natural ways of thinking about the land are influenced by cultural forces that range from notions of a "rational society" to the marketing of the American Dream.
Disappearing Desert speaks to land-use dilemmas nationwide and shows that curtailing suburban development requires both policy shifts and new ways of relating to the land. For anyone seeking to understand the cultural basis for rampant development, this book uncovers the forces that drive sprawl and searches for solutions to its seeming inevitability.