The Cornish Miner in America: The Contribution to the Mining History of the United States by Emigrant Cornish Miners--The Men Called Cousin Jacks Vo (Western Lands and Waters) (Paperback)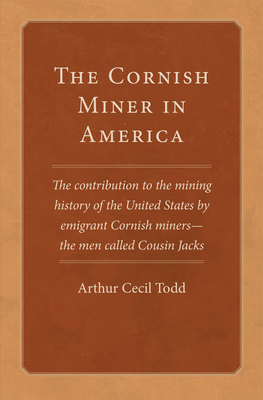 Description
---
The hands of Cornish miners bore scars of one of the most sophisticated traditions of hard-rock mining in the world.Toughened "Cousin Jacks" brought generations of toilsome underground experience to the Americas from one of the oldest mining regions of the world. Once here, their skill with granite and ore won their fame as the industrial elite of western mining camps. Heirs of a perfected system of excavation, a valuable terminology, and the technical edge of a culture immersed in sinkings, stopes, and winzes, they were the world's best hard-rock miners.
Pioneers in American mine operation, Cornish miners utilized tribute pay to raise output and made themselves partners with a grueling industry. Expertise made them company men, superintendents, captains, and drillers, with their success dependent almost entirely on their own initiative, coolness, and skill.They are part of a culture that has survived because its very roughness gave a resilience and durability that could be transplanted and take root in an alien soil.
The courage and determination of these Cousin Jacks in their struggle against overwhelming odds is dramatically illustrated in numerous personal stories. The Atlantic crossing, and the journey overland to the new mining districts, were exhausting trials. Although their skill in working with rock and water was soon recognized, the extremes of weather and temperature, strange sicknesses, the constant danger of accidents, and the lawlessness of the camps, all made life hard to endure. Many did not survive to send home for their families, yet the majority persevered to spread their legendary mining skills and to bring social as well as religious stability to mining areas that extended from Wisconsin to California.
In the continent-wide search for bonanzas, Cornish miners and their families played a vital part in the opening-up of the American West, and in the shaping of modern industrial America. The author follows them across the Atlantic to the lead mines and farms of Wisconsin, along the trails to Oregon and Death Valley, the Sierras and the Sacramento in California, then to the copper and iron ranges in the Hiawatha country of Upper Michigan; from there to the silver and gold canyons of the Rockies and the notorious Comstock Lode in Nevada, and finally to the deserts of Utah, Idaho, and Arizona.
Originally published in 1967, this new edition contains an updated introduction by Dr.Todd. With extensive footnotes and index, handsomely printed on acid-free paper stock with cloth cover which is stamped in gold foil on the spine and cover.