The Exorcist Legacy: 50 Years of Fear (Hardcover)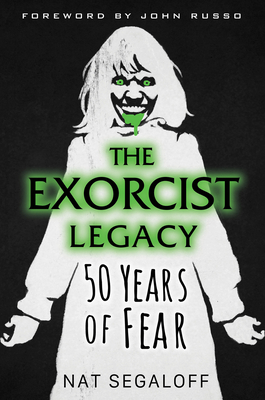 Description
---
Since 1973, The Exorcist and its progeny have scared and inspired half a century of filmgoers. Now, on the 50th anniversary of the original movie release, this is the definitive, fascinating story of the scariest movie ever made and its lasting impact as one of the most shocking, influential, and successful adventures in the history of film. Written by Nat Segaloff, an original publicist for the movie and the acclaimed biographer of its director, with a foreword from John Russo, author and cowriter of the seminal horror film Night of the Living Dead.

On December 26, 1973, The Exorcist was released. Within days it had become legend. Moviegoers braved hours-long lines in winter weather to see it. Some audience members famously fainted or vomited. Half a century later, the movie that both inspired and transcends the modern horror genre has lost none of its power to terrify and unsettle.

The Exorcist Legacy reveals the complete story of this cultural phenomenon, from the real-life exorcism in 1949 Maryland that inspired William Peter Blatty's bestselling novel on which the movie is based, to its many sequels, prequels, TV series, and homages. Nat Segaloff, biographer of the film's director, William Friedkin, draws on original interviews with cast, crew, and participants as well as revelations from personal papers to present an intriguing and surprising new view of the making of the movie, and its aftermath.

Segaloff also examines as never before the keys to the movie's enduring appeal. Friedkin and Blatty's goal was far more ambitious than making a scary movie; they aimed to make people "think about the concept of good and evil." The Exorcist succeeds, and then some, not just by creating on-screen scares, but by challenging viewers' deepest personal beliefs—and fears.
About the Author
---
Nat Segaloff is a writer, producer, journalist, and Hugo and Locus Award-nominated author of more than two dozen books about filmmakers and film history, including Hurricane Billy: The Stormy Life and Films of William Friedkin. He covered the film industry for The Boston Herald and worked on A&E's flagship Biography series as well as programming for The learning Channel, New World, Disney, Turner Classic Movies, and USA Network. As one of the original publicists on The Exorcist, he closes a haunting chapter in his life with The Exorcist Legacy. Segaloff lives in Los Angeles and can be found online at NatSegaloff.com.
Praise For…
---
Praise for The Exorcist Legacy

"The power of Nat Segaloff's research should compel fans to pick up a copy of the behind-the-scenes book." —Entertainment Weekly

"In his dutiful, soup-to-nuts book about the movie and its legacy, Segaloff, who was publicity director for a Boston theater chain where the movie showed during its original run, addresses the question of what made so many 'Exorcist' viewers throw up." —The Los Angeles Times

"(Segaloff) remembers the frenzy firsthand. But his new book dwells on production forensics: how the movie and its concept were developed and written and massaged . . . Segaloff's accounting of Exorcist spin-offs and versions is positively Wikipedian in its thoroughness." —Air Mail

"This encyclopedic overview of the Exorcist franchise by film historian Segaloff (More Fire!) will satisfy even the most obsessive fans. A publicist on the original 1973 film directed by William Friedkin . . . the author's love for the original film buoys this, and his insights into how Blatty's ruminations on faith and the existence of God animate his book and screenplay shed new light on the story. The result is a competent celebration of a horror classic." —Publishers Weekly

"I highly recommend The Exorcist Legacy: 50 Years of Fear to all aficionados of my father's book and film. I have read all of the books about The Exorcist out there and to my mind it is the best of the lot: interesting, entertaining, accurate, and comprehensive. Segaloff reveals details about the making of the original film that I didn't know in spite of the fact that I was present during much of the making of it. Above all, this book honors my father's legacy and for that I am grateful to its author." —Michael Blatty, son of William Peter Blatty (author of The Exorcist)

"You'd think that at this late date there wouldn't be a lot left to say about The Exorcist, one of the most skillfully manipulative movies ever made. But you'd be wrong! Veteran journalist Nat Segaloff engrossingly charts the making, marketing, and enduring reception of the spiritual horror blockbuster that has haunted the nightmares of two generations of filmgoers, as well as spawned a cottage industry of theories about the 'curses' that allegedly bedeviled the production. Plus you get background info on the various sequels and offshoots that continue to this day. It's a great read even if you're not a lapsed Catholic!" —Joe Dante, director of Gremlins, Innerspace, The Howling, and Matinee

"The Exorcist is not just a classic, but a living, breathing presence in our culture. Nat Segaloff has followed it from the very beginning and is uniquely qualified to chart its history and impact." —Leonard Maltin, film critic and historian

"Nat Segaloff's deep dive into all things Exorcist will spin your head around with exhaustive details, smart reporting, intriguing insights from cast and crew members, philosophical and religious explorations, and more. Segaloff tells his tale with intelligence, warmth, and lively occasional doses of skepticism and snark." —Stephen Rebello, author of Alfred Hitchcock and the Making of Psycho and Dolls! Dolls! Dolls!: Deep Inside Valley of the Dolls, the Most Beloved Bad Book and Movie of All Time

"The Exorcist Legacy conjures new scares while telling a great story about a landmark horror film. Insightful, surprising, and damn fun!" —Jonathan Maberry, New York Times bestselling author of Kagen the Damned and editor of Weird Tales Magazine

"This is it: the definitive look at the power and impact of The Exorcist, from Blatty's conception of the original novel, its criminally underrated successor (Legion), and the terrifying films that erupted from those seminal works into mainstream movie houses. Segaloff chronicles this legacy not as a fly-on-the-wall, but as a battlefield medic with his finger pressed firmly on the pulse. If there's a more comprehensive and exhaustive history of The Exorcist, I have not read it." —Ronald Malfi, bestselling author of Come with Me and Black Mouth