The Seven Necessary Sins for Women and Girls (Paperback)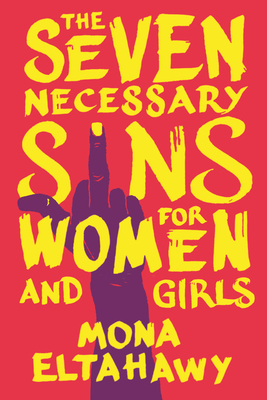 $17.95

Not Available In-Store - Usually Ships from Warehouse in 1-5 Days
Description
---
A bold and uncompromising feminist manifesto that shows women and girls how to defy, disrupt, and destroy the patriarchy by embracing the qualities they've been trained to avoid.

Seizing upon the energy of the #MeToo movement, feminist activist Mona Eltahawy advocates a muscular, out-loud approach to teaching women and girls to harness their power through what she calls the "seven necessary sins" that women and girls are not supposed to commit: to be angry, ambitious, profane, violent, attention-seeking, lustful, and powerful. All the necessary "sins" that women and girls require to erupt.

Eltahawy knows that the patriarchy is alive and well, and she is fed the hell up: Sexually assaulted during hajj at the age of fifteen. Groped on the dance floor of a night club in Montreal at fifty. Countless other injustices in the years between. Illuminating her call to action are stories of activists and ordinary women around the world—from South Africa to China, Nigeria to India, Bosnia to Egypt—who are tapping into their inner fury and crossing the lines of race, class, faith, and gender that make it so hard for marginalized women to be heard. Rather than teaching women and girls to survive the poisonous system they have found themselves in, Eltahawy arms them to dismantle it.

Brilliant, bold, and energetic, The Seven Necessary Sins for Women and Girls is a manifesto for all feminists in the fight against patriarchy.
About the Author
---
Mona Eltahawy is an author, activist, and commentator. Her essays and op-eds have appeared in the New York Times, Washington Post, Guardian, Time, NBCNews.com, and New York Magazine, among many others. Follow her on Twitter at @monaeltahawy.
Praise For…
---
"A sharp manifesto for fighting the patriarchy . . . Brilliant and electrifying."
—Booklist, Starred Review

"A vociferous, highly motivational call to arms for the feminist movement."
—Kirkus Reviews

"Eltahawy's arguments come through with as much intelligence and clarity as passion and evocative imagery; they are built on facts about racism, capitalism, and homophobia, as well as her own and others' experiences."
—Publishers Weekly

"Eltahawy's book is an enormously valuable accounting of the work of patriarchy-smashers who are not white or rich or famous."
—The Progressive

"The fierce Mona Eltahawy is back with the feminist manifesto of the year. Inspired by #MeToo and more, this book provides readers with everything they need to launch their latest and greatest assault on the patriarchy."
—Ms. Magazine

"Incredibly direct and fiercely intelligent . . . . A book for those who don't wait for permission."
—Marwa Helal, author of Invasive species

"The Seven Necessary Sins for Women and Girls is an incendiary, searing manifesto by one of the most important feminist activists of our time. Mona Eltahawy writes with urgency and passion about women around the world, calling on us to banish self-doubt and shame—all the traits that so many have been taught from childhood—and heed her battle cry against the patriarchy. She has written a wildly inspiring, brave book that commands our attention."
—Leta Hong Fincher, author of Betraying Big Brother: The Feminist Awakening in China

"The Seven Necessary Sins for Women and Girls is shocking, brave, gloriously unfeminine, and right on time. This global MeToo is the ultimate and intimate TimesUp for patriarchy. Reading it will free you, and acting on it will free us all."
—Gloria Steinem, writer and feminist activist

"Mona Eltahawy reminds me that when I was young we called it women's liberation: she is here for your liberation and that of every woman and girl, from Nunavut to Namibia. The Seven Necessary Sins for Women and Girls . . . exhorts and advocates for more confidence, more clarity, more of a sense of value and rights, more pleasure and joy for women. With its gloriously energetic, rampaging prose, it also inspires those things."
—Rebecca Solnit, author of Men Explain Things to Me

"The Seven Necessary Sins for Women and Girls is a clarion call to action and a declaration of independence from patriarchal oppression. It is an homage to the girls we were and the girls we could have been. Mona Eltahawy writes with bracing wit and fierce intelligence, with unapologetic fury and an expansive heart. In these pages you will find yourself again and again, and you will see who you can become. This book is fucking brilliant."
—Maaza Mengiste, author of The Shadow King