Christians Against Christianity: How Right-Wing Evangelicals Are Destroying Our Nation and Our Faith (Paperback)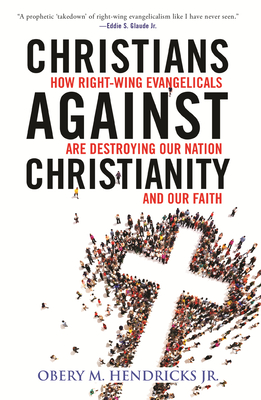 $16.95

Not Available In-Store - Usually Ships from Warehouse in 1-5 Days
Description
---
A timely and galvanizing work that examines how right-wing evangelical Christians have veered from an admirable faith to a pernicious, destructive ideology.

Today's right-wing Evangelical Christianity stands as the very antithesis of the message of Jesus Christ. In his new book, Christians Against Christianity, best-selling author and religious scholar Obery M. Hendricks Jr. challenges right-wing evangelicals on the terrain of their own religious claims, exposing the falsehoods, contradictions, and misuses of the Bible that are embedded in their rabid homophobia, their poorly veiled racism and demonizing of immigrants and Muslims, and their ungodly alliance with big business against the interests of American workers.

He scathingly indicts the religious leaders who helped facilitate the rise of the notoriously unchristian Donald Trump, likening them to the "court jesters" and hypocritical priestly sycophants of bygone eras who unquestioningly supported their sovereigns' every act, no matter how hateful or destructive to those they were supposed to serve.

In the wake of the deadly insurrectionist attack on the US Capitol, Christians Against Christianity is a clarion call to stand up to the hypocrisy of the evangelical Right, as well as a guide for Christians to return their faith to the life-affirming message that Jesus brought and died for. What Hendricks offers is a provocative diagnosis, an urgent warning that right-wing evangelicals' aspirations for Christian nationalist supremacy are a looming threat, not only to Christian decency but to democracy itself. What they offer to America is anything but good news.
About the Author
---
Obery M. Hendricks Jr. is a best-selling author, an activist, a religious scholar, a former theological seminary president, and an ordained elder in the African Methodist Episcopal Church. His books include The Politics of Jesus: Rediscovering the True Revolutionary Nature of Jesus' Teachings and How They Have Been Corrupted and The Universe Bends Toward Justice: Radical Reflections on the Bible, the Church, and the Body Politic. He currently teaches religion and African American studies at Columbia University and is also a Visiting Professor of Bible and Ethics at Union Theological Seminary in New York City.
Praise For…
---
"Christians Against Christianity hits hard. Really hard. But it is also measured, thoughtful, reasoned, and carefully presented. The style is concise and evidence-based, with research on evangelical leadership, statements and polled positions of right-wing evangelicals, and serious biblical scholarship."
—Los Angeles Review of Books

"[Hendricks'] most recent book, Christians Against Christianity, is a sustained critique of a group he refers to as 'faux Christians': right-wing, white evangelicals. With scholarly precision and an ability to engage beyond the tired critiques of right-wing Christianity, Hendricks imagines a version of Christianity that is politically committed to social justice."
—Sojourner Magazine

"If his book were a trial, the verdict would be clear: guilty."
—Christian Century

"Obery Hendricks is a righteous rabble-rouser! This book is the kind of prophetic troublemaking and truth-telling that we all need."
—Brittney Cooper, author of Eloquent Rage

"Unsparing in his criticism and unflinching in his commitment to the Gospel, Obery Hendricks has penned a prophetic 'takedown' of right-wing evangelicalism like I have never seen before. He understands the stakes and defends, with the skill of a scholar and a preacher, the importance of loving and being responsible for one's neighbor. Christians Against Christianity is, at once, bracing and brilliant, powerful and passionate. Read it and join the battle!"
—Eddie S. Glaude Jr., author of Begin Again: James Baldwin's America and Its Urgent Lessons for Our Own

"The distinguished scholar and prophetic social critic Obery Hendricks has done it again: he has written a brilliant and heartfelt defense of the Christian gospel that indicts the fakes and frauds who distort it! This book, standing in the great tradition of Martin Luther King Jr., is just what is needed in these decadent times."
—Cornel West, author of Race Matters

"We are at a time of turmoil, a crossroads that will determine what Christianity will mean and how it will be practiced in the twenty-first century. Any Christian who cares about the central message of the Gospels must read Dr. Obery Hendricks' urgent and important work."
—Rev. Al Sharpton

"Obery M. Hendricks Jr. is one of the most brilliant and consequential biblical scholars of the twenty-first century. He writes with the poetry of a novelist, the learning of a world-class scholar, and the artistry of a thunderous preacher sharing a burning jeremiad. This book is pure fire!"
—Michael Eric Dyson, author of Long Time Coming

"A searing indictment of white evangelicals' allegiance to white supremacy and political power and a clarion call to all Christians to go back to the Bible to reclaim a faith rooted in love and responsibility for others rather than domination and self-interest. This is a must-read book for this crucial moment in our nation's history."
—Robert P. Jones, CEO and founder of PRRI, author of White Too Long: The Legacy of White Supremacy in American Christianity

"Christians Against Christianity masterfully exposes the moral, political, and theological contradictions of the American Religious Right. Each page of this brilliant text brims with historical heft, critical analysis, and righteous outrage. This is a must-read text not only for Christians but for anyone interested in understanding American faith, politics, and culture."
—Marc Lamont Hill, author of We Still Here

"A masterful and grounded challenge to right-wing evangelical theology and politics—but one not for theologians alone. Powerfully written, forcefully argued, and morally anchored, Christians Against Christianity offers hope and thoughtful insight to all progressives and fair-minded readers."
—Gar Alperovitz, author of What Then Must We Do? Straight Talk About the Next American Revolution

"Dr. Obery Hendricks is one of the country's most insightful voices on faith in the public square and racial justice and equity. This book is a critical contribution to our political and religious debate and deserves to be read and understood by policy and political leaders and people of faith alike."
—Joshua DuBois, CEO of Values Partnerships, CNN contributor, and former director, White House Office of Faith-Based and Neighborhood Partnerships

"Christians Against Christianity is a brilliantly and powerfully written prophetic indictment of right-wing evangelicals who misuse the Bible while abusing those they otherize to further their political agenda. Obery Hendricks does a masterful job of shining a spotlight of gospel truth on their hypocrisy, masked as piety, while extending a redemptive invitation to experience and be emancipated by the liberating love of the sable-skinned Savior who majored in ministry to those on the margins. This is the gospel truth!"
—Dr. Frederick D. Haynes III, co-chair of the Samuel DeWitt Proctor Conference

"The Gospel has been hijacked! In Christians Against Christianity, Dr. Obery Hendricks affirms the population of people who have given their talents, skills, and abilities to religion and church only to find themselves marginalized, disenfranchised, and vilified. He clearly states that it is time to liberate Jesus and emancipate the heart of the Gospel that is trapped by pseudo-Christianity behaving badly! I recommend this book as a road map to freedom both for the prisoners and the practitioners of Bad Religion. Buy several copies and set captives free!"
—Rev. Dr. Yvette Flunder, presiding bishop, The Fellowship of Affirming Ministries, and author of Where the Edge Gathers

"Obery Hendricks Jr. reminds us that two crucial measures of our faith are loving God and neighbor and that whatever we do for the 'least of these' we do for Jesus. Now more than ever we must live out 'the life-affirming, justice-insistent message that Jesus proclaimed' for our nation's children. Like Jesus, who put the child among the disciples, as we reclaim the transformative power of Christian faith, we must move children from the margin to the center of our nation's priorities."
—Marian Wright Edelman, president emerita, The Children's Defense Fund, and author of The Measure of Our Success

"Dr. Obery Hendricks's latest book, Christians Against Christianity, is a powerful, prophetic denunciation of the brand of right-wing, overwhelmingly white evangelicalism that has done such grievous damage to the body politic and the body of Christ in the United States, as well as to the witness of the Christian church in the United States around the world. In reflecting on the damage of the last four years in particular, Hendricks describes the dangerous heresy and idolatry of Trumpism that has even further distanced far too many right-wing evangelicals literally from the true teachings of Jesus Christ. The witness of the Trumpian evangelicals is truly anti-Christ. Only by following Jesus's two greatest commandments—to love God and to love our neighbors as ourselves—along with his teachings in Matthew 25 that the test of discipleship is how we treat the 'least of these,' can these right-wing evangelicals find their way back to Jesus. I strongly recommend this book."
—Jim Wallis, founder of Sojourners and New York Times best-selling author of Christ in Crisis

"Those who would like to read a well-educated and well-presented viewpoint on a number of contemporary issues from a thoughtful biblical perspective would be hard-pressed to do better than examine this book. You may not agree with everything Hendricks says, but you will be better informed and certainly challenged by his exhortation to match balanced biblical guidance with the way we live out contemporary social issues."
—Scott Moncrieff, Spectrum Magazine

"[Obery's] comparison is revealing: the Bible opposes conservative Christian politics at every turn. Not only does right-wing Christianity threaten American political life, but its false narrative also threatens Christianity itself. Hendricks is a voice crying in the wilderness—a prophet claiming the truth of the Bible for justice and a vision of the God who is love."
—Diana Butler Bass, author of Grounded: Finding God in the World, A Spiritual Revolution