Harry Potter and the Sorcerer's Stone (CD-Audio)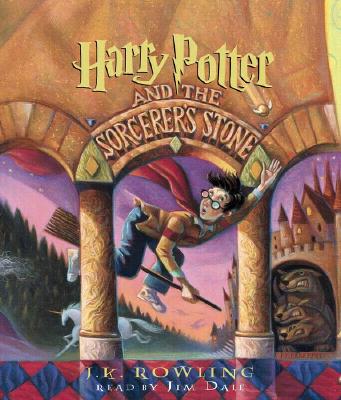 Staff Reviews
---
I first fell in love with the Harry Potter series when I was nine years old and have been in love ever since. Now, many years later, this new and beautiful illustrated edition has elicited the same kind of love I first felt when my dad read the original version to me. Jim Kay's illustrations highlight J.K. Rowling's text and bring it to life in a way that is sure to excite any Harry Potter fan, whether they're reading The Sorcerer's Stone for the first or the five-hundredth time.
—
Heather H.
The first time I read this book, it was in the original US format, with only the illustrations by Mary GrandPré. Of course Rowling's beautiful storytelling enabled me to build a visual in my mind so vivid, I didn't think anyone would ever be able to capture it. Artist Jim Kay didn't just illustrate Harry Potter, he brought him to life. Study each of the over 100 illustrations closely and you will find they are as full of hidden imagery as Rowling's prose. Kay modeled each central character after actual models – some family, some friends, some folks he met on the Underground in London. This is truly one of the most beautiful books I have ever had the pleasure of holding in my hands.
—
Scott
Description
---
Read by Jim Dale
8 hours 17 minutes, 7 CDs

Harry Potter has no idea how famous he is. That's because he's being raised by his miserable muggle aunt and uncle who are terrified Harry will learn that he's a wizard, just as his parents were.

But everything changes when Harry is summoned to attend an infamous school for wizards and he begins to discover some clues about his illustrious birthright.

From the surprising way he is greeted by a lovable giant, to the unique curriculum and colorful faculty at his unusual school, Harry finds himself drawn deep inside a mystical world he never knew existed and closer to his own noble destiny.
About the Author
---
J.K. Rowling was a struggling single mother when she wrote the beginnings of Harry Potter and the Sorcerer's Stone on scraps of paper at a local cafe.  But her efforts were soon rewarded with an award from the Scottish Arts Council enabling her to finish the novel.  She has since won numerous awards including the ABBY Award (American Booksellers Award) 1999.
Praise For…
---
"A charming, imaginative, magical confection of a novel." -- Boston Globe
"Harry is destined for greatness." -- The New York Times