Art Is Everything: A Novel (Paperback)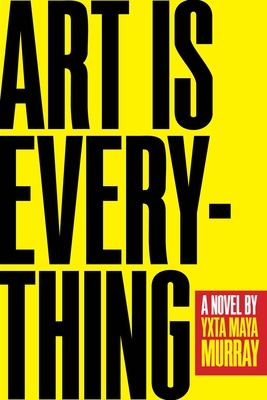 $18.95

Special Order - Subject to Availability
Description
---
In her funny, idiosyncratic, and propulsive new novel, Art Is Everything, Yxta Maya Murray offers us a portrait of a Chicana artist as a woman on the margins. L.A. native Amanda Ruiz is a successful performance artist who is madly in love with her girlfriend, a wealthy and pragmatic actuary named Xōchitl. Everything seems under control: Amanda's grumpy father is living peacefully in Koreatown; Amanda is about to enjoy a residency at the Guggenheim Museum in New York and, once she gets her NEA, she's going to film a groundbreaking autocritical documentary in Mexico.
But then everything starts to fall apart when Xōchitl's biological clock begins beeping, Amanda's father dies, and she endures a sexual assault. What happens to an artist when her emotional support vanishes along with her feelings of safety and her finances? Written as a series of web posts, Instagram essays, Snapchat freakouts, rejected Yelp reviews, Facebook screeds, and SmugMug streams-of-consciousness that merge volcanic confession with eagle-eyed art criticism, Art Is Everything shows us the painful but joyous development of a mid-career artist whose world implodes just as she has a breakthrough.
About the Author
---
YXTA MAYA MURRAY is a writer and law professor living in Los Angeles. Her novels include The Good Girl's Guide to Getting Kidnapped, The King's Gold: An Old World Novel of Adventure, and The Queen Jade: A Novel. Her fiction has appeared in Ploughshares, the Georgia Review, the Southern Review, and the Los Angeles Review of Books. She has won a Whiting Writer's Award and an Art Writer's Grant, and she has been a finalist for the ASME Award in Fiction. Her art criticism can be found in Artforum, ARTnews, Artillery, and other periodicals.
 
Praise For…
---
"In Amanda Ruiz, Yxta Maya Murray has created a character that is fresh and sassy and unlike any I've encountered in recent fiction. Through inventive and stylized prose rife with wit and intelligence, we witness her triumphs and heartbreaks just as Amanda is on the verge of a major creative breakthrough while her personal life begins to unravel. What results is a portrait of an artist whose tenacity and passion fill the pages of this ebullient novel, penned by a gifted writer whose imagination knows no limits." —Alex Espinoza, author of Cruising: An Intimate History of a Radical Pastime
 

"Amanda Ruiz romps through an art infused life of love, loss, and redemption, inviting the reader on a wild, exhilarating ride." —Carla Trujillo, author of Faith and Fat Chances

"This book is as creative as its main character, Chicana artist Amanda Ruiz, who endures several life-changing events while on the verge of breaking through." — Ms. Magazine

"The novel evolves and transforms the idea that art is everything until it encompasses a state of being wherein art is the undeniable core of an artist's existence and of all of the actions of their life." —Foreword Reviews