Is that Kafka?: 99 Finds (Hardcover)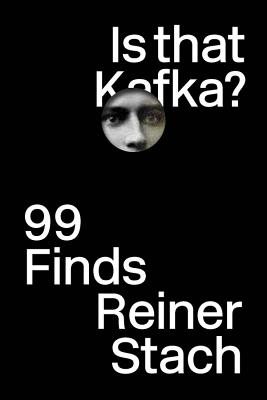 $27.95

Special Order - Subject to Availability
Staff Reviews
---
Slogging through Stach's three-volume biographical opus of Franza Kafka has been a rough endeavor at times. Reading just one of the finds in this collection however, ignites my desire to lock myself in the bedroom -- just like Kafka might, and read until sunrise. Stach's "finds" are some of his favorite anecdotes and oddities discovered in the process of writing his 1,500-page biography of this ghostly literary figure. You'll learn that Kafka distrusted doctors and the medical establishment, loved beer, admired slapstick comedy, and a lot more! These pieces chip away at the monolithic dark Kafka, revealing the real person he was -- albeit a little out of focus, just like his stories and aphorisms. This one is perfect to be read in small snippets or binged straight through to the end.
—
Jeremy
Description
---
Out of the massive research for an authoritative 1,500-page biography emerges this wunderkammer of 99 delightfully odd facts about Kafka
In the course of compiling his highly acclaimed three-volume biography of Kafka, while foraying to libraries and archives from Prague to Israel, Reiner Stach made one astounding discovery after another: unexpected photographs, inconsistencies in handwritten texts, excerpts from letters, and testimonies from Kafka's contemporaries that shed surprising light on his personality and his writing. Is that Kafka? presents the crystal granules of the real Kafka: he couldn't lie, but he tried to cheat on his high-school exams; bitten by the fitness fad, he avidly followed the regime of a Danish exercise guru; he drew beautifully; he loved beer; he read biographies voraciously; he made the most beautiful presents, especially for children; odd things made him cry or made him furious; he adored slapstick. Every discovery by Stach turns on its head the stereotypical version of the tortured neurotic—and as each one chips away at the monolithic dark Kafka, the keynote, of all things, becomes laughter.
For Is that Kafka? Stach has assembled 99 of his most exciting discoveries, culling the choicest, most entertaining bits, and adding his knowledge-able commentaries. Illustrated with dozens of previously unknown images, this volume is a singular literary pleasure.
About the Author
---
Reiner Stach, born in 1951 in Saxony, is the author of the definitive biography of Kafka. The first two volumes, published by Princeton University Press, received starred reviews from Publishers Weekly ("superb"), Library Journal ("a monumental accomplishment"), Kirkus ("essential"), and Booklist ("masterful"). "I can't say enough about the liveliness and richness of Stach's book," Michael Dirda exclaimed in The Washington Post. "Every page feels excited, dynamic, utterly alive."

In 2010 Kurt Beals was a finalist for the Best Translated Book Award for Anja Utler's engulf–enkindle, and in 2012 he won the first ever German Book Office Translation Prize. His translation of Regina Ullmann's The Country Road was published by New Directions in 2015.
Praise For…
---
A Kafka bag full of surprises.
— Der Tagesspiegel

A playful new book from Reiner Stach, one that pulls together 99 facts and observations from the Czech author's life, all with the purpose of clearing the brush of falsehoods about the man that linger in the public imagination.
— Jonathon Sturgeon - Flavorwire

If, like me, you are wary of delving into a three-volume account of the life of an ascetic and self-tormenting insurance lawyer, Stach has by some inexplicable thunderbolt of inspiration supplemented his enormous undertaking with a separate volume of biographical detritus, which he suggestively calls 'counter-images', titled Is that Kafka? 99 Finds.

— Morten Høi Jensen - LA Review of Books

Lucidly translated from the German by Kurt Beals, ingeniously designed, illustrated with photographs of Kafka and the people he knew, of places he visited and art he admired, and with facsimiles of newspaper articles, manuscripts, notes, and letters, Is That Kafka? is a handsome volume.

— Francine Prose - New York Review of Books

It is fitting that such a tricksy little maze of a book would bloom from the life of Kafka, whose work operates better in smaller spaces.
— Propeller

A mishmash of ephemera, curiosities and confessionals, the finds range from the banal to the deeply personal, yet collectively paint as engaging and illustrative a portrait of the artist as any I've read.
— Pasha Malla - The Globe and Mail

A beautiful display of unexpected wonders and curiosities, each one glittering with light from a source that will never be understood.
— Jeffrey Zuckerman - The New Republic

Reiner Stach has curated a collection of artifacts from the author's life in his latest book, "Is that Kafka? 99 Finds." The book, translated from the German by Kurt Beals, is a crowd-pleasing encore to Stach's monumental three-volume biography of the writer. Along with minimal commentary, he submits ninety-nine numbered exhibition items—documents, photographs, objects, scribbles, and doodles—for our consideration. The result is a box of fancy Austro-Hungarian chocolates...
— Avi Steinberg - The New Yorker

Each turn Stach makes adds nuance to his skillfully collaged portrait of Kafka.
— The Quarterly Conversation

"Is that Kafka?" indirectly contributes to an on going scholarly project, in Europe and America, to revisit many of the assumptions about the writer and his work, in effect, to move beyond the myths and clichés.
— Michael Dirda - The Washington Post

This collection, original and entertaining, is a masterful, exciting mix of diligent research and sophisticated literary gossip.
— Neues Deutschland