The Dream of My Return (Paperback)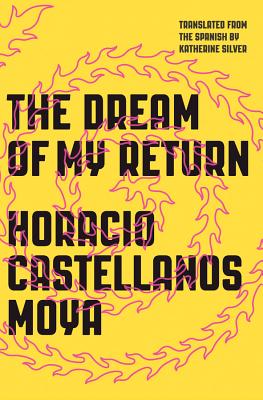 $15.95

Special Order - Subject to Availability
Staff Reviews
---
The anxiety and paranoia present in Moya's work grants him many deserved comparisons to Franz Kafka. An El Salvadoran dissenter and eventual ex-patriot, Moya left the country from fear of his critics. They had painted him as unpatriotic for his writing and threatened his life. The character in this novel is much like the author, a journalist with a dream to return home, but perhaps the whole thing is a nightmare afterall. Since going under hypnosis, he's having a hard time trying to figure out things. Debaucherous and mind-bending, this novel is addictive and darkly funny.
—
Jeremy B.
Description
---
A high-octane paranoia deranges a writer and fuels a dangerous plan to return home to El Salvador.
High-octane paranoia deranges a writer and fuels a dangerous plan to return home at the tail end of El Salvador's long civil war.
Is the plan a dream or a nightmare?
Is he courageous, foolhardy, or just plain dumb?
Is the bubbling brew of horrors and threats actual or imagined?
After he seeks relief for liver pain through hypnosis (while drinking more than ever, despite the treatments), his few impulse-control mechanisms rapidly dissolve, and reality only rarely intrudes on his cogitations. Harebrained murder plots, half-mad arguments, hysterical rants: the narrative escalates at a maniacal pace, infused with Horacio Castellanos Moya's uniquely outlandish and acerbic sense of humor.

About the Author
---
Horacio Castellanos Moya was born 1957 in Honduras. He has lived in San Salvador, Canada, Costa Rica, Mexico (where he spent ten years as a journalist, editor, and political analyst), Spain, and Germany. In 1988 he won the National Novel Prize from Central American University for his first novel. His work has been published and translated in England, Germany, El Salvador and Costa Rica. He has published ten novels and is now living in exile as part of the City of Asylum project in Pittsburgh, Pennsylvania.
Praise For…
---
Brilliant and devastating and incredibly beautiful.
— Chris Faatz - Powells.com

Brilliantly funny and unsettling… Castellanos Moya has turned anxiety into an art form and an act of rebellion, and redeemed paranoia as a positive indicator of rot.
— Natasha Wimmer - The Nation

A welcome, eye-opening addition to this new literature of the Latin American nightmare.
— Anderson Tepper - Time Out New York

Acid
humor, like a Buster Keaton movie or a time bomb.
— Roberto Bolaño