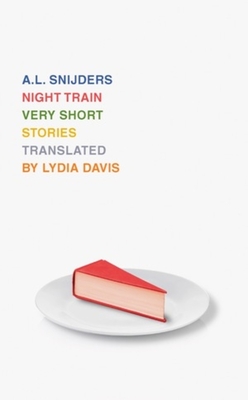 Description
---
Brevity is the soul of beauty in these tiny masterworks of short short fiction
Gorgeously translated by Lydia Davis, the miniature stories of A. L. Snijders might concern a lost shoe, a visit with a bat, fears of travel, a dream of a man who has lost a glass eye: uniting them is their concision and their vivacity. Lydia Davis in her introduction delves into her fascination with the pleasures and challenges of translating from a language relatively new to her. She also extols Snijders's "straightforward approach to storytelling, his modesty and his thoughtfulness."
      Selected from many hundreds in the original Dutch, the stories gathered here—humorous, or bizarre, or comfortingly homely—are something like daybook entries, novels-in-brief, philosophical meditations, or events recreated from life, but—inhabiting the borderland between fiction and reality—might best be described as autobiographical mini-fables.
This morning at 11:30, in the full sun, I go up into the hayloft where I haven't been for years. I climb over boxes and shelving, and open the door. A frightened owl flies straight at me, dead quiet, as quiet as a shadow can fly, I look into his eyes—he's a large owl, it's not strange that I'm frightened too, we frighten each other. I myself thought that owls never move in the daytime. What the owl thinks about me, I don't know.
About the Author
---
A. L. Snijders was born in 1937 in Amsterdam. In 1971, he moved to Achterhoek, a quiet, wooded region in the east of the Netherlands where many of his animal stories are set. In 2006, his first collection of zkv's ("zeer korte verhalen" or "very short stories"—a term he invented) was published, bringing the writer quickly to public attention. Several collections followed, including the volume from which the present stories are taken, De Mol en andere dierenzkv's (The Mole and Other Very Short Animal Stories, AFdH, 2009). In November 2010, Snijders was awarded the Constantijn Huygens Prize, one of the three most important literary prizes in Holland, in recognition of his work as a whole and especially his zkv's. Snijders has by now written approximately 1,500 zkv's.

Lydia Davis is the author of one novel and seven story collections. Her collection Varieties of Disturbance: Stories was a finalist for the 2007 National Book Award. She is the recipient of a MacArthur fellowship, the American Academy of Arts and Letters' Award of Merit Medal, and was named a Chevalier of the Order of the Arts and Letters by the French government for her fiction and her translations of modern writers, including Maurice Blanchot, Michel Leiris, and Marcel Proust. Lydia Davis is the winner of the 2013 Man Booker International Prize.
Praise For…
---
Masterpieces: not a word can be missed.
— DE VOLKSKRANT

When a story ends with a riddle, or a doubt, as many of his do, the subject of the story becomes, in part, really, Snijders's own questioning, or, more broadly, our own shared habitual uncertainty, perhaps even the shared uncertainty of our human existence
— Lydia Davis

For all their brevity and mystery, these stories ultimately touch on the way that perception, language, connection, and an appreciation of the natural world give depth, even joy, to life. Deceptively simple, disarmingly charming.
— Kirkus

Throughout, there's a good deal of attention paid to dikes and honeybees, adding up to a multidimensional evocation of rural life in Holland. One has a feeling, at the end of each sketch, most of which fit on one page, that Snijders has left nothing unsaid, summing up each with a perfect declaration.
— Publishers Weekly

Like Davis, Snijders can compose rich, complex life studies in just a handful of sentences, extracting profundity from the absurd, and vice versa. Their sensibilities are so well matched that one can hardly imagine a better translator and interlocutor for him than Davis; that kinship is likely why this collection feels so smartly, exquisitely wrought.
— Jennifer Krasinski - Bookforum

Since the 1980s Snijders has been a widely read newspaper columnist—for a long time he insisted on publishing in his local free paper as well as the national press—but that workaday writerly calling doesn't capture the strangeness of narrative and tone he smuggles onto the page
— Brian Dillon - 4Columns

Night Train is a shapeshifting amalgam of fable, zen koan, commentary, lyrical essay, and autobiography. As an immersive foray into the unknown, the instability of Snijders's narrative form produces a trompe-l'oeil effect "indistinguishable from the truth," giving the reader a sensation of being at once disoriented and illuminated...This notion of reality as unknowable, or "unpsychological," represents the trademark of Snijders's fiction, allowing his narrative—as both burrowing animal and spy—to elude conventional expectations and assume an enigmatic depth, despite its compact form.

— Thuy Dinh - Asymptote

The principal through-line in Night Train is Snijders's depiction of "our shared habitual uncertainty"; wonders and doubts are held intact, unanswered, and speak to Snijders's distinct humility as a storyteller.

— Chiara Bercu - Zyzzyva