The Employees: A workplace novel of the 22nd century (Hardcover)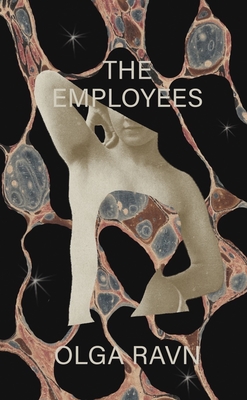 February 2022 Indie Next List
---
"The Employees is haunting, poetic, sterile yet bursting with sensation. A series of reflections on what it means to be human, to spend life working, disconnected from the natural world and others. For those who ask 'is this all there is?'"
— Henry Williams, Flyleaf Books, Chapel Hill, NC
Description
---
Shortlisted for the International Booker prize and the Ursula K. Le Guin Prize, The Employees reshuffles a sci-fi voyage into a riotously original existential nightmare
Funny and doom-drenched,
The Employees
chronicles the fate of the Six-Thousand Ship. The human and humanoid crew members complain about their daily tasks in a series of staff reports and memos. When the ship takes on a number of strange objects from the planet New Discovery, the crew becomes strangely and deeply attached to them, even as tensions boil toward mutiny, especially among the humanoids.
Olga Ravn's prose is chilling, crackling, exhilarating, and foreboding. The Employees probes into what makes us human, while delivering a hilariously stinging critique of life governed by the logic of productivity. It was shortlisted for the the Ursula K. Le Guin Prize. 
About the Author
---
Olga Ravn (born 1986) is a Danish novelist and poet. Her debut poetry collection, I Devour Myself Like Heather, appeared to critical acclaim in 2012. Alongside Johanne Lykke Holm she ran the feminist performance group and writing school Hekseskolen from 2015 to 2019. In collaboration with Danish publisher Gyldendal she edited a selection of Tove Ditlevsen's texts and books that relaunched Ditlevsen readership worldwide. Her new book, My Work, is forthcoming from New Directions in 2023.

MARTIN AITKEN has translated numerous novels from Danish and Norwegian, including works by Karl Ove Knausgaard, Peter Hoeg, Ida Jessen, and Kim Leine. He won the PEN Translation Prize for his translation of Hanne Orstavik's Love.
Praise For…
---
The Employees feels close to Greek mythology. Like the figures of an epic, the workers seem composed of equal parts fate and randomness, automation and rebellion. The actual business of the Six Thousand Ship is nevertheless wholly modern: resource extraction, as employees make occasional excursions to harvest commodities known only as 'objects.' These soon come to derail—delightfully—both the ship's functioning and its crew's philosophizing.

— Zoe Hu - Bookforum

A deeply sensory book, suffused with aroma and alert to tactility... The Employees is not only a disconcertingly quotidian space opera; it's also an audacious satire of corporate language and the late-capitalist workplace, and a winningly abstracted investigation into what it means to be human… This clever, endlessly thought-provoking novel catches something of our recursive search for the nature of consciousness; a question that answers itself, a voice in the darkness, an object moving through space.

— Justine Jordan - Guardian

Everything I'm looking for in a novel. I was obsessed from the first page to the last. A strange, beautiful, deeply intelligent and provocative investigation into humanity. The Employees is an alarmingly brilliant work of art

— Max Porter

Beautiful, sinister, gripping. A tantalizing puzzle you can never quite solve. All the reviews say that the novel is, ultimately, about what it means to be human. What makes it exceptional, however, is the way it explores the richness and strangeness of being non-human.
— Mark Haddon

What might result if Ursula K. Le Guin and Nell Zink had a baby.
— Tank Magazine

An achingly beautiful mosaic of fragile characters managing their longing, pain, and alienation. This gorgeous, evocative novel is well worth the effort.
— Publishers Weekly

In brief numbered statements delivered by the human and nonhuman crew of the Six Thousand Ship to a shadowy committee, Ravn seeds her narrative with direct and allegorical reflections on transhumanism, disappearing nature, and the ambiguities of being embodied... The novel is by turns queasily exact about what is seen—skin pitted like pomegranate, an object's furrows oozing some nameless balm—and willfully obscure. Ambiguity is everything: "I don't know if I'm human anymore. Am I human? Does it say in your files what I am?"
— Brian Dillon - 4columns

The Employees asks important questions about what makes up human consciousness, and also, critiques corporate language that can make its way into our lives sometimes without us knowing. It's very funny. It's very interesting. I definitely recommend checking this one out.

— Corinne Segal - WNYC

A book that strikes a rare balance between SF philosophy and workaday feeling all while whirling through space.
— Kirkus

[The] manipulation of contrasting tones—from management speak to emotional candor—is as much the handiwork of Ravn as it is Martin Aitken, who translated The Employees from Danish. The term "masterful" is so oft-used as to become diluted, bordering on cliché, but in the case of Aitken, it applies in its truest sense. Aitken, who has also translated works by Karl Ove Knausgard and the PEN Translation Prize-winning Love by Hanne Orstavik, captures the distinct voices of the countless characters whose recorded statements make up The Employees, and pulls off perhaps the hardest feat of translation—the feeling that the work hasn't been translated at all.

— Sophia Stewart - Tor

The Employees is framed as a collection of increasingly bizarre memos filed by the crew of a deep-space vessel, who seem to be infatuated with the strange cargo they picked up from an alien world. As their obsession turns to mania, things start to go wrong in hilarious, grim, spectacular ways. Only 144 pages long and full of white space, The Employees achieves its macabre, chaotic mission at light speed.

— Patrick Rapa - Philadelphia Inquirer

In surreal, tactile, and often funny prose, Olga Ravn's The Employees and Hiroko Oyamada's The Factory present the workplace as a hallucinogenic hall of mirrors, a crucible where our sense of self warps and dissolves.

— Stephen Kearse - The Atlantic

The most striking aspect of this weird, beautiful, and occasionally disgusting novel is not, as its subtitle implies, its portrayal of working life on the spaceship....What The Employees captures best is humanity's ambivalence about life itself, its sticky messes and unappealing functions, the goo that connects us to everything that crawls and mindlessly self-propagates, not to mention that obliterating payoff at the end of it all.

— Laura Miller - The New York Review of Books

In its imaginative world, the utopian dream of surveillance capitalism has finally come to fruition. Aboard the Six Thousand Ship, where Ravn's protagonists live, activity and language are carefully shaped around work...Ravn creates a world that is complementary to our own and yet far more menacing.
— Jessica Loudis - The Nation

This is more than a clever reframing of sci-fi tropes, although it's that, too; the employees' voices themselves, some of them desperate, some of them meditative, form a touching, alienated chorus, narrating a tragedy that for many will ring eerily true.
— Vulture

This is more than a clever reframing of sci-fi tropes, although it's that, too; the employees' voices themselves, some of them desperate, some of them meditative, form a touching, alienated chorus, narrating a tragedy that for many will ring eerily true.
— Laura Adamczyk - The AV Club

Olga Ravn's The Employees unpacks like a miraculous gift, alive with changes. Peeling off the first wrap, things look eerie, then at the next mundane, and while the crackle might sound like laughter, it also shivers with terror or poignancy. Short as the novel is, some chapters just a few lines, it's intense, sumptuous, and utterly distinctive.

— John Domini - The Brooklyn Rail

God died, and soon the Earth will too, but in this Danish dystopian novel told in vignettes from laborers floating on a spaceship in the 22nd century, work remains.
— Jacob Rosenberg - Mother Jones

Transporting and ephemeral—an unforgettable novel about the psychic costs of labor under capitalism. Dreamlike and sensual, The Employees shouldn't be missed.

— Esquire

The Employees is a short book, but it contains multitudes. Ravn's open love, pity, and compassion for her strange yet familiar creations is poetry.

— John Crowley - Boston Review

Ravn asks us to envision a future in which the machines, rather than the humans that create and maintain them, lead the workers' revolution.
— LARB