The Idiot Girl and the Flaming Tantrum of Death: Reflections on Revenge, Germophobia, and Laser Hair Removal (Paperback)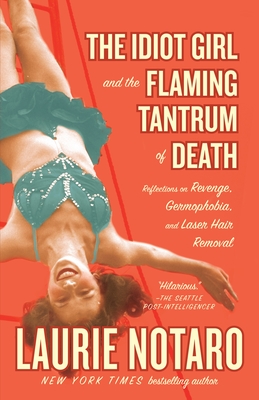 $15.00

Special Order - Subject to Availability
Description
---
NEW YORK TIMES BESTSELLER • Laurie Notaro has an uncanny ability to attract insanity—and leave readers doubled over with laughter. Need proof? Check out The Idiot Girl and the Flaming Tantrum of Death and try not to bust a gut.

Join Notaro as she experiences the popular phenomenon of laser hair removal (because at least one of her chins should be stubble-free); bemoans the scourge of the Open Mouth Coughers on America's airplanes and in similarly congested areas; welcomes the newest ex-con (yay, a sex offender!) to her neighborhood; and watches, against her own better judgment, every Discovery Health Channel special on parasites and tapeworms that has ever aired—resulting in an overwhelming fear that a worm the size of a python will soon come a-knocking on her back door.

In Notaro's world, strangers are stranger than fiction. One must always check the hotel bathroom for hobo hairs and consciously remember not to stare at old men with giant man-boobies. And then there are the lessons she has learned the hard way: Though it may seem like a good idea, it's best not to hire a tweaked-out homeless guy to clean up your yard.

The Plain Dealer says that Laurie Notaro is "a scream, the freak-magnet of a girlfriend you can't wait to meet for a drink to hear her latest story." With The Idiot Girl and the Flaming Tantrum of Death, Notaro proves she's not only funny but resigned to the fact that you can't look bad ass in a Prius. Don't even try.
About the Author
---
Laurie Notaro was born in Brooklyn, New York, and raised in Phoenix, Arizona. She packed her bags for Eugene, Oregon, once she realized that since she was past thirty, her mother could no longer report her as a teenage runaway. She is the author of The Idiot Girls' Action-Adventure Club, Autobiography of a Fat Bride, I Love Everybody, We Thought You Would Be Prettier, An Idiot Girl's Christmas, and the novel There's a (Slight) Chance I Might Be Going to Hell. She is currently at work on a plan B (to take effect when her book contract runs out), which includes selling hot dogs at Costco, selling hot dogs from a street cart, selling hot dogs at high school football games, or being the stop sign holder for road construction crews. At press time, she is still married, and she has an adorably disobedient dog that wears sweaters and loves chicken strips. (Clearly, Notaro has no children.)
Praise For…
---
"Hilarious."—Seattle Post-Intelligencer

"[Laurie Notaro] writes with a flair that leaves you knowing she would be a gal you could commiserate with over a bucket of longneck beers. If you need to laugh over the little annoyances of life, this is a book for you. If you need to cry over a few of them, Flaming Tantrum can fit that bill, too."—St. Louis Post-Dispatch

"A double-handful of chuckle-worthy vignettes . . . Notaro blends sardonic, often self-deprecating comedy with disarming sincerity." —Publishers Weekly

"For pure laugh-out-loud, then read-out-loud fun, it's hard to beat this humor writer."—New Orleans Times-Picayune