Kill 'Em and Leave: Searching for James Brown and the American Soul (Paperback)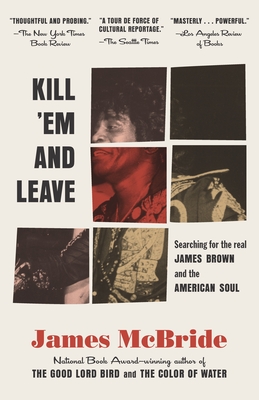 $17.00
Not Available In-Store - Usually Ships from Warehouse in 1-5 Days
Staff Reviews
---
The best book I've read in a few years. As much concerned with America's complicated relationship with black history as it is being a biography of James Brown. James McBride refuses to give a linear story, because no person's true story can be linear, and instead dives into the complexities and nuances of the man. Kill 'Em and Leave is passionate, well-researched, and honest in ways you don't expect in a book about a musical legend. If you have even a passing interest in James Brown and/or the music that emerged out of the black communities in the 50's and 60's, please read this.
—
Danny
Description
---
"You won't leave this hypnotic book without feeling that James Brown is still out there, howling."—The Boston Globe
 
ONE OF NPR'S BEST BOOKS OF THE YEAR • LOS ANGELES TIMES BOOK PRIZE FINALIST
 
Kill 'Em and Leave is more than a book about James Brown. Brown embodied the contradictions of American life: He was an unsettling symbol of the tensions between North and South, black and white, rich and poor. After receiving a tip that promises to uncover the man behind the myth, James McBride goes in search of the "real" James Brown. McBride's travels take him to forgotten corners of Brown's never-before-revealed history, illuminating not only our understanding of the immensely troubled, misunderstood, and complicated Godfather of Soul, but the ways in which our cultural heritage has been shaped by Brown's enduring legacy. 

Praise for Kill 'Em and Leave

"A tour de force of cultural reportage."—The Seattle Times
 
"Thoughtful and probing."—The New York Times Book Review
 
"Masterly . . . powerful."—Los Angeles Review of Books
 
"McBride provides something lacking in most of the books about James Brown: an intimate feeling for the musician, a veracious if inchoate sense of what it was like to be touched by him. . . . It may be as close [to 'the real James Brown'] as we'll ever get."—David Hajdu, The Nation
 
"A feat of intrepid journalistic fortitude."—USA Today
 
"[McBride is] the biographer of James Brown we've all been waiting for. . . . McBride's true subject is race and poverty in a country that doesn't want to hear about it, unless compelled by a voice that demands to be heard."—Boris Kachka, New York
 
"Illuminating . . . engaging."—The Washington Post
 
"A gorgeously written piece of reportage that gives us glimpses of Brown's genius and contradictions."—O: The Oprah Magazine
About the Author
---
James McBride is the author of the National Book Award winner and New York Times bestseller The Good Lord Bird, as well as the bestselling novels Song Yet Sung and Miracle at St. Anna, and the #1 New York Times bestseller The Color of Water. He is also a saxophonist and composer who teaches music to children in the Red Hook, Brooklyn, housing projects where he was born, and a Distinguished Writer in Residence at the Arthur L. Carter Journalism Institute at NYU.
Praise For…
---
"Thoughtful and probing . . . with great warmth, insight and frequent wit. The results are partisan and enthusiastic, and they helped this listener think about the work in a new way. . . . James McBride's welcome elucidation . . . is clear, deeply felt and unmistakable."—Rick Moody, The New York Times Book Review
 
"The author of the best-selling memoir The Color of Water and the National Book Award–winning novel The Good Lord Bird turns out to also be the biographer of James Brown we've all been waiting for. . . . McBride's true subject is race and poverty in a country that doesn't want to hear about it, unless compelled by a voice that demands to be heard."—Boris Kachka, New York

"Masterly . . . powerful . . . McBride provides an invaluable service to the history of R&B. . . . In illuminating what James Brown meant to our culture, we're in good hands with the impassioned McBride: a fellow musician, he knows this world from within, knows what the music did and why it mattered."—Los Angeles Review of Books
 
"Kill 'Em and Leave is a feat of intrepid journalistic fortitude. . . . McBride does not lecture but he does preach. As a result his writing rings out with righteous passion. . . . Readers will be grateful for everything he has exposed here—the good and the bad, much of it hitherto unknown. Somewhere, even James Brown is probably saying thanks."—USA Today
 
"This is an important book about an important figure in American musical history and about American culture. . . . You won't leave this hypnotic book without feeling that James Brown is still out there, howling."—The Boston Globe

"Illuminating . . . engaging."—The Washington Post

"A stunningly unorthodox book, indifferent to the conventions of biographical nonfiction . . . McBride provides something lacking in most of the books about James Brown: an intimate feeling for the musician, a veracious if inchoate sense of what it was like to be touched by him. . . . It may be as close [to 'the real James Brown'] as we'll ever get."—David Hajdu, The Nation

"McBride's energetic storytelling, his sympathy for his subject and his deeply personal writing tell a sad tale of one of our most influential musicians."—BookPage
 
"A gorgeously written piece of reportage that gives us glimpses of Brown's genius and contradictions."—O: The Oprah Magazine
 
"Kill 'Em and Leave is a tight assemblage of reporting, biography, and cultural dissection, held together by McBride's gutty, jangling, and sometimes smoldering voice. . . . McBride gets us closer than anyone else has—close enough to feel the voltage from twentieth-century music's most electrifying showman."—Jonathan Miles, Garden & Gun 

"The definitive look at one of the greatest, most important entertainers, The Godfather, Da Number One Soul Brother, Mr. Please, Please Himself—JAMES BROWN."—Spike Lee
 
"Please, please, please: Can anybody tell us who and what was James Brown? At last, the real deal: James McBride on James Brown is the matchup we've been waiting for, a musician who came up hard in Brooklyn with JB hooks lodged in his brain, a monster ear for the truth, and the chops to write it. This is no celeb bio but a compelling personal quest—so very timely, angry, hilarious, and as irresistible as any James Brown beat. It's a must for anyone, as JB sang it, 'Living in America.' Read it, and your brain won't sit still."—Gerri Hirshey, author of Nowhere to Run: The Story of Soul Music
 
"National Book Award winner McBride dissects the career, legacy, and myth of the Godfather of Soul. One of the most iconic figures in pop music, James Brown is also one of the most unknown and falsely represented figures in American cultural history. . . . An unconventional and fascinating portrait of Soul Brother No. 1 and the significance of his rise and fall in American culture."—Kirkus Reviews