Cartwheel: A Novel (Paperback)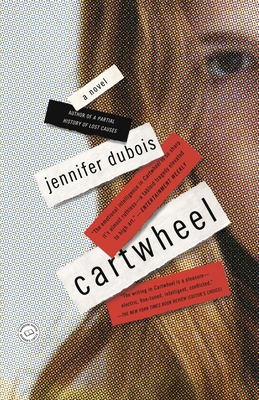 $16.00
Email or call for price.
Staff Reviews
---
Readers who followed the Amanda Knox case will recognize the details in duBois' literary thriller. The chapters bounce from character to character--Lily, the college student accused of her roommate's murder, her father who's hanging by a thread, her eccentric, sometimes boyfriend, and the lovelorn detective investigating the case. It was a fascinating and well-written story and the mystery is just as murky as the case it appears to be based on. Cartwheel is the perfect book for fans of dark, well-written novels (i.e. everybody).
—
LAUREN'S STAFF PICKS
Description
---
NAMED ONE OF THE BEST BOOKS OF THE YEAR BY
Slate • Cosmopolitan • Salon • BuzzFeed • BookPage

Written with the riveting storytelling of authors like Emma Donoghue, Adam Johnson, Ann Patchett, and Curtis Sittenfeld, Cartwheel is a suspenseful and haunting novel of an American foreign exchange student arrested for murder, and a father trying to hold his family together.
 
When Lily Hayes arrives in Buenos Aires for her semester abroad, she is enchanted by everything she encounters: the colorful buildings, the street food, the handsome, elusive man next door. Her studious roommate Katy is a bit of a bore, but Lily didn't come to Argentina to hang out with other Americans.
 
Five weeks later, Katy is found brutally murdered in their shared home, and Lily is the prime suspect. But who is Lily Hayes? It depends on who's asking. As the case takes shape—revealing deceptions, secrets, and suspicious DNA—Lily appears alternately sinister and guileless through the eyes of those around her: the media, her family, the man who loves her and the man who seeks her conviction. With mordant wit and keen emotional insight, Cartwheel offers a prismatic investigation of the ways we decide what to see—and to believe—in one another and ourselves.
 
In Cartwheel, duBois delivers a novel of propulsive psychological suspense and rare moral nuance. No two readers will agree who Lily is and what happened to her roommate. Cartwheel will keep you guessing until the final page, and its questions about how well we really know ourselves will linger well beyond.

WINNER OF THE HOUSATONIC BOOK AWARD • Look for special features inside. Join the Random House Reader's Circle for author chats and more.

"A smart, literary thriller [for] fans of Gillian Flynn's Gone Girl."—The Huffington Post
 
"Psychologically astute . . . DuBois hits [the] larger sadness just right and dispenses with all the salacious details you can readily find elsewhere. . . . The writing in Cartwheel is a pleasure—electric, fine-tuned, intelligent, conflicted. The novel is engrossing, and its portraiture hits delightfully and necessarily close to home."—The New York Times Book Review (Editor's Choice)
 
"Marvelous . . . a gripping tale . . . Every sentence crackles with wit and vision. Every page casts a spell."—Maggie Shipstead, author of Seating Arrangements

"[You'll] break your own record of pages read per minute as you tear through this book."—Marie Claire
 
"A convincing, compelling tale . . . The story plays out in all its well-told complexity."—New York Daily News

"[A] gripping, gorgeously written novel . . . The emotional intelligence in Cartwheel is so sharp it's almost ruthless—a tabloid tragedy elevated to high art. [Grade:] A-"—Entertainment Weekly
 
"Sure-footed and psychologically calibrated . . . Reviewers of duBois's first novel, A Partial History of Lost Causes, called it brainy and beautiful, a verdict that fits this successor. . . . As the pages fly, the reader hardly notices that duBois has stretched the genre of the criminal procedural."—Newsday

"The power of Cartwheel resides in duBois' talent for understanding how the foreign world can illuminate the most deeply held secrets we keep from others, and ourselves."—Chicago Tribune
About the Author
---
Jennifer duBois's A Partial History of Lost Causes was one of the most acclaimed debuts of recent years. It was a finalist for the PEN/Hemingway Award for Debut Fiction, winner of the California Book Award for First Fiction and the Northern California Book Award for Fiction, and O: The Oprah Magazine chose it as one of the ten best books of the year. DuBois was also named one of the National Book Foundation's 5 Under 35 authors. A graduate of the Iowa Writers' Workshop, duBois recently completed a Stegner Fellowship at Stanford University. Originally from Massachusetts, she now lives in Texas.
Praise For…
---
"A smart, literary thriller [for] fans of Gillian Flynn's Gone Girl."—The Huffington Post
 
"Psychologically astute . . . DuBois hits [the] larger sadness just right and dispenses with all the salacious details you can readily find elsewhere. . . . The writing in Cartwheel is a pleasure—electric, fine-tuned, intelligent, conflicted. The novel is engrossing, and its portraiture hits delightfully and necessarily close to home."—The New York Times Book Review (Editor's Choice)
 
"[You'll] break your own record of pages read per minute as you tear through this book."—Marie Claire
 
"Jennifer duBois is destined for great things."—Cosmopolitan

"A convincing, compelling tale . . . The story plays out in all its well-told complexity."—New York Daily News

"[A] gripping, gorgeously written novel . . . The emotional intelligence in Cartwheel is so sharp it's almost ruthless—a tabloid tragedy elevated to high art. [Grade:] A-"—Entertainment Weekly
 
"Sure-footed and psychologically calibrated . . . Reviewers of duBois's first novel, A Partial History of Lost Causes, called it brainy and beautiful, a verdict that fits this successor. . . . As the pages fly, the reader hardly notices that duBois has stretched the genre of the criminal procedural. The limberness is welcome, indeed."—Newsday

"Something more provocative, meaningful and suspenseful than the tabloids and social media could provide . . . [DuBois] tells a great story. . . . The power of Cartwheel resides in duBois' talent for understanding how the foreign world can illuminate the most deeply held secrets we keep from others, and ourselves."—Chicago Tribune

"[Jennifer duBois is] heir to some of the great novelists of the past, writers who caught the inner lives of their characters and rendered them on the page in beautiful, studied prose. . . . She aims to observe the thoughts that intrude at the most inappropriate times, to capture memories and intricate emotions, and to make penetrating comments about living today. In Cartwheel, she accomplishes this with acrobatic precision."—Pittsburgh Post-Gazette

"From the first page, duBois's intelligent, penetrating writing makes this sad story captivating, delivering it from the realm of scuttlebutt and into that of art. . . . What else can we learn from these events? The answer is plenty, as duBois explores grief and love, youth and aging, and Americans abroad through a set of distinctive characters bound by calamity."—The Dallas Morning News

"[A] thrilling book . . . What influences our perception of reality—morality, faith, sexuality, privilege—and what happens when we realize those perceptions aren't infallible? Recommended for: Anyone who . . . tends to get sucked into Law and Order and/or Criminal Minds marathons, or anyone who thrives on suspense."—BuzzFeed

"[A] compelling, carefully crafted, and, most importantly, satisfying novel."—Bustle

"An astonishing, breathtaking, and harrowing read."—New York Journal of Books

"[DuBois] does an excellent job of creating and maintaining a pervasive feeling of foreboding and suspense. . . . An acute psychological study of character that rises to the level of the philosophical . . . Cartwheel is very much its own individual work of the author's creative imagination."—Booklist (starred review)

"Jennifer duBois, a writer whose fierce intelligence is matched only by her deep humanity, hits us with a marvelous second novel that intertwines a gripping tale of murder abroad with an intimate story of family heartbreak. Every sentence crackles with wit and vision. Every page casts a spell."—Maggie Shipstead, New York Times bestselling author of Seating Arrangements

"Cartwheel is so gripping, so fantastically evocative, that I could not, would not, put it down. Jennifer duBois is a writer of thrilling psychological precision. She dares to pause a moment, digging into the mess of crime and accusation, culture and personality, the known and unknown, and coming up with a sensational novel of profound depth."—Justin Torres, New York Times bestselling author of We the Animals

"Jennifer duBois's Cartwheel seized my attention and held it in a white-knuckled grip until I found myself reluctantly and compulsively turning its final pages very late at night. It's an addictive book that made me miss train stops and wouldn't let me go to sleep until I'd read just one more chapter. And it's so much more than just a ravenous page-turner—it's a rumination on the bloodthirsty rubbernecking of the twenty-four-hour news cycle and the bewitching powers of social media, and a scalpel-sharp dissection of innocence abroad, a book charged with a refreshing anger, but always empathic. Jennifer duBois has captured the sleazy leer of lurid crime and somehow twisted it into a work of art."—Benjamin Hale, author of The Evolution of Bruno Littlemore

"Like its namesake, Cartwheel will upend you; rarely does a novel this engaging ring so true. Inscribed with the emotional intimacy of memory, this is one story you will not soon forget."—T. Geronimo Johnson, author of Hold It 'Til It Hurts