In a Desert Garden: Love and Death among the Insects (Paperback)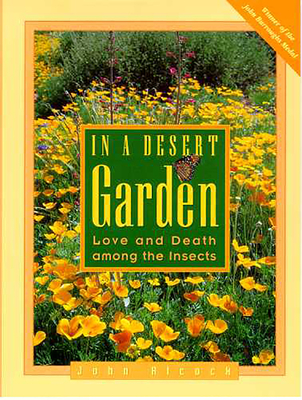 Description
---
When John Alcock replaced the Bermuda grass in his suburban Arizona lawn with gravel, cacti, and fairy dusters, he was doing more than creating desert landscaping. He seeded his property with flowers to entice certain insects and even added a few cowpies to attract termites, creating a personal laboratory for ecological studies. His observations of life in his own front yard provided him with the fieldnotes for this unusual book. In a Desert Garden draws readers into the strange and fascinating world of plants and animals native to Arizona's Sonoran Desert.

As Alcock studies the plants in his yard, he shares thoughts on planting, weeding, and pruning that any gardener will appreciate. And when commenting on the mating rituals of spiders and beetles or marveling at the camouflage of grasshoppers and caterpillars, he uses humor and insight to detail the lives of the insects that live in his patch of desert. Celebrating the virtues of even aphids and mosquitoes, Alcock draws the reader into the intricacies of desert life to reveal the complex interactions found in this unique ecosystem. In a Desert Garden combines meticulous science with contemplations of nature and reminds us that a world of wonder lies just outside our own doors.
About the Author
---
John Alcock is the author of Sonoran Desert Spring, Sonoran Desert Summer, and The Masked Bobwhite Rides Again, all published by the University of Arizona Press. He is Professor of Zoology at Arizona State University.
Praise For…
---
"Alcock writes with a wry humor that appears as well in reflections on growing vegetables and cultivating compost. Graced with lively line drawings,...Alcock's engaging, illuminating text offers delightful reading for all who appreciate the natural world."—Booklist

"A spirited primer in Sonoran Desert ecology, cloaked in a memoir of gardening. . . .Ever original, Alcock encourages readers to view the desert with new eyes through this fine contribution to arid-lands literature."—Kirkus Reviews

"Makes a delightful case for insect watching and for creating a space for that purpose . . . Insect enthusiasts will love it—and those who wonder why anyone would be an insect enthusiast need to buy it."—Audubon Naturalist News

"Alcock is a fine stylist, deftly joining the keen observation and scientific insight one expects from a nature writer to the lighter (and, let's admit it, much funnier) voice of a garden writer. The result is a wonderful and informative narrative in which even the compost pile becomes a vibrant stage."—New York Times Book Review