Bju and Me: Queer Voices from the World's Most Christian University (Paperback)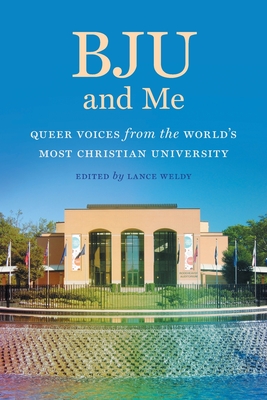 $26.95

Not Available In-Store - Usually Ships from Warehouse in 1-5 Days
Description
---
Bob Jones University is a Christian, fundamentalist, nondenominational liberal arts school in Greenville, South Carolina. BJU was founded in 1927 by Christian evangelist Bob Jones Sr., who was against the secularization of higher education and the influence of religious liberalism in denominational colleges. For most of the twentieth century, BJU branded itself as the "World's Most Unusual University" because of its separatist culture. Many BJU students come from fundamentalist communities and are aware of BJU's strict rules and conservative lifestyle. So why would queer students enroll at BJU?
A former queer student of BJU himself, Lance Weldy has come to terms with his own involvement with the institution and has reached out to other queer students to help represent the range of queer experience in this restrictive atmosphere.
BJU and Me: Queer Voices from the World's Most Christian University
provides behind-the-scenes explanations from nineteen former BJU students from the past few decades who now identify as LGBT+. They write about their experiences, reflect on their relationships with a religious institution, and describe their vulnerability under a controlling regime. Some students hid their sexuality and graduated under the radar; others transferred to other schools but faced reparative therapy elsewhere; some endured mandatory counseling sessions on campus; while still others faced incredible obstacles after being outed by or to the BJU administration. These students give voices to their queer experiences at BJU and share their unique stories, including encounters with internal and/or external trauma and their paths to self-validation and recovery. Often their journeys led them out of fundamentalism and the BJU network entirely.
About the Author
---
LANCE WELDY is professor of English at Francis Marion University. He has coedited the New Casebook series volume C. S. Lewis: The Chronicles of Narnia and also a special issue on sexualities and children's culture for the Children's Literature Association Quarterly. He lives in Florence, South Carolina.