Joe the Barbarian (Hardcover)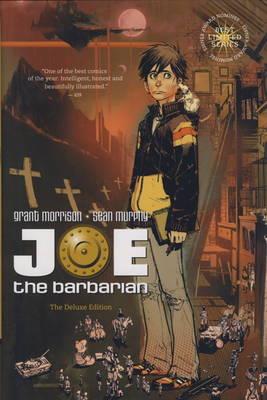 $56.00
Special Order - Subject to Availability
Description
---
One of the hottest writers in the industry, Grant Morrison, brings this Home Alone meets The Lord of the Rings story to life.
Joe is an imaginative eleven year-old boy. He can't fit in at school. He's the victim of bullies. His dad died overseas in the Iraq war. He also suffers from Type 1 diabetes. One fateful day, his condition causes him to believe he has entered a vivid fantasy world in which he is the lost savior -- a fantastic land based on the layout and contents of his home. His desperate attempts to make it out of his bedroom transform into an incredible, epic adventure through a bizarre landscape of submarine pirate dwarves, evil Hell Hounds, Lightning Lords and besieged castles. But is his quest really just an insulindeprived delirium -- from which he can die if he doesn't take his meds -- or something much bigger?
About the Author
---
Grant Morrison is a Scottish writer, known for being one of the most innovative and groundbreaking creators ever in the comics medium. His careers spans over two decades, in which many of his most notable and critically acclaimed works have come from DC Comics and Vertigo. After his work in the 80s on 2000 AD in the United Kingdom, Morrison moved onto DC's ANIMAL MAN, followed up by original graphic novel BATMAN: ARKHAM ASYLUM, THE INVISIBLES, DOOM PATROL and a award-winning run on DC's superteam JLA. Other critically acclaimed projects include FINAL CRISIS, BATMAN R.I.P., SEVEN SOLDIERS OF VICTORY, WE3, BATMAN & ROBIN, BATMAN, INC., ALL-STAR SUPERMAN and JOE THE BARBARIAN. He is currently writing SUPERMAN: ACTION COMICS as a part of DC COMICS - THE NEW 52.