Bodie's Gold: Tall Tales and True History from a California Mining Town (Paperback)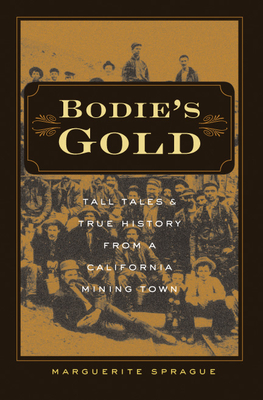 $24.95

Special Order - Subject to Availability
Description
---
The Bodie Mining District was established in 1860 after the discovery of gold deposits in the area. Bodie's largest boom ended just over twenty years later, but the town survived into the twentieth century supported by a few small but steady mines. Mining ended with World War II. What remained of the town became a state park in 1964.
In Bodie's Gold, author Marguerite Sprague uncovers the original sources of information whenever possible, from the first mining claims to interviews with former Bodieites. Enhanced with numerous historic photographs and extracts from newspapers of that period, as well as by the reminiscences of former residents, the book offers a fascinating account of life in a Gold Rush boomtown. The book is now available in a new, easier-to-handle paperback edition that will make it more convenient for readers who want to carry if with them in a car or backpack.
About the Author
---
Marguerite Sprague is executive director of the North Lake Tahoe Historical Society.
Praise For…
---
"Bodie's Gold is lively reading and a vivid account of the life that once throbbed behind the now-closed doors and empty streets of California's official Gold Rush ghost town." -- Placerville Mountain Democrat
"A good, informal social history of Bodie." -- True West
"Bodie's Gold is a valuable and informative source, from Marguerite Sprague's preface to her extensive back matter. The book is a must-read for anyone who is planning a trip to Bodie or just wants to step back into California's gold rush era." -- New Mexico Historical Review
"Sprague weaves together the divergent geological, mining, and social aspects of Bodie's story into a well-researched, nicely written, and very readable account of a mining camp that became an indelible part of California's colorful gold-mining history." -- Rock and Gem