Some Mistakes of Moses (Paperback)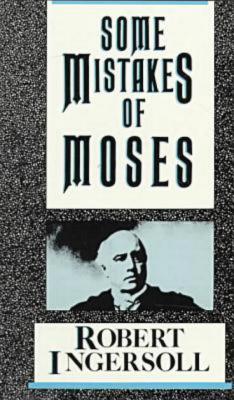 $24.99

Not Available In-Store - Usually Ships from Warehouse in 1-5 Days
Description
---
Robert G. Ingersoll (1833-99), the "Great Agnostic," was the greatest freethought orator in the history of the United States. No public speaker before or since has enjoyed the reputation accorded him.

After the Civil War, Ingersoll embarked upon a career as a lecturer, touring the United States to make his thoughts on religion, women's rights, and humanism known to all. Some Mistakes of Moses, one of the most popular of these lectures, is a critical examination of the Pentateuch (the first five books of the Bible). Ingersoll passionately believed that the alleged divine origins of the Bible were not sufficient reason for a suspension of critical judgement. His diatribe against Old Testament religion is a call for rationality, a quality sorely missing in this time of political upheaval in the world in the name of religion.

Ingersoll greatly feared that when the Bible was read as truth rather than as a collection of fables, mankind would destroy itself in its attempt to follow the teachings of Moses to the letter. Ingersoll fervently believed that the most important belief one can have is belief in man. "Theology is a superstition - Humanity is a religion" - this was the credo of Robert G. Ingersoll.

Now, a new generation of readers can thrill to Ingersoll's brilliant and witty rhetoric, just as great thinkers Mark Twain, Thomas Edison, Eugene V. Debs, and others did almost one hundred years ago.
About the Author
---
Robert G. Ingersoll (1833-1899) was perhaps the most famous American of his day. As an enlightened freethinker and pioneer of humane, rational, and agnostic views, Ingersoll was a tireless advocate of rational thought, who battled superstition and hypocrisy wherever he found it. This dedicated popularizer would regularly address huge audiences, opening their minds to ideas that often provoked guarded whispers in private. Ingersoll was a man far ahead of his time, advocating such progressive causes as agnosticism, birth control, voting rights for women, the advancement of science, civil rights, and freedom of speech. His advocacy of such iconoclastic ideals made a lasting impression on his own and later generations. Although Robert Ingersoll lived before the development of the Secular Humanist Movement, there is no doubt that he qualifies as one of the great heroes of the Humanist Pantheon.