Philosophy in the Tragic Age of the Greeks (Paperback)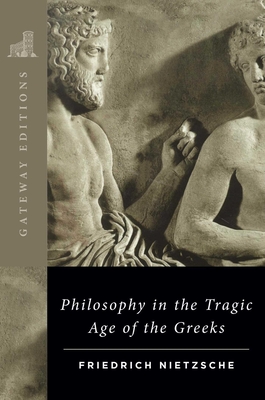 $17.99

Not Available In-Store - Usually Ships from Warehouse in 1-5 Days
Description
---
For Nietzsche the Age of Greek Tragedy was indeed a tragic age. He saw in it the rise and climax of values so dear to him that their subsequent drop into catastrophe (in the person of Socrates - Plato) was clearly foreshadowed as though these were events taking place in the theater.

And so in this work, unpublished in his own day but written at the same time that his The Birth of Tragedy had so outraged the German professorate as to imperil his own academic career, his most deeply felt task was one of education. He wanted to present the culture of the Greeks as a paradigm to his young German contemporaries who might thus be persuaded to work toward a state of culture of their own; a state where Nietzsche found sorely missing.
About the Author
---
Friedrich Nietzsche (1844–1900) was a German philosopher and cultural critic who published intensively in the 1870s and 1880s. He is famous for uncompromising criticisms of traditional European morality and religion, as well as of conventional philosophical ideas and social and political pieties associated with modernity. Many of these criticisms rely on psychological diagnoses that expose false consciousness infecting people's received ideas; for that reason, he is often associated with a group of late modern thinkers (including Marx and Freud) who advanced a "hermeneutics of suspicion" against traditional values (see Foucault [1964] 1990, Ricoeur [1965] 1970, Leiter 2004). Nietzsche also used his psychological analyses to support original theories about the nature of the self and provocative proposals suggesting new values that he thought would promote cultural renewal and improve social and psychological life by comparison to life under the traditional values he criticized.